Water Damage Randallstown
911 Restoration Baltimore wants to ensure your home in Randallstown remains safe and comfortable through top notch water damage repair and restoration.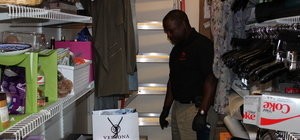 We can be there within 45 minutes of your emergency call so we can work on getting your home back into shape in no time.
Once our team arrives you can expect them to get started right away; they will be performing a free inspection and estimate of your property.
Our techs are IICRC certified to take on this problem for you. We will be wearing protective hazmat suits as we work to prevent the spread of any disease and to protect ourselves as we work.
We will be using our advanced equipment to extract the sewage out of your home. Our licensed, insured, and bonded technicians will then repair any damage to the plumbing.
We're available 24/7/365 to take on all of these problems so you can get a fresh start as soon as possible!
Our water damage Randallstown team with 911 Restoration Baltimore can provide the necessary services so problems like roof leaks, pipe bursts, sewage spills, and flooding are taken care of quickly and professionally, so give us a call today!
Providing Professional Assistance To Take Care Of Leaks
Our water damage Randallstown technicians have nearly four decades worth of experience in dealing with a variety of water damage emergencies.
Aside from experience, our team has undergone rigorous training and makes use of advanced drying equipment that helps us take on issues such as:
Roof damage and roof leaks
Clogged gutters and downspouts
Washer and heater hose ruptures
Sewage spills
Fire sprinkler malfunctions
Pipe bursts and other plumbing issues
Bathtub overflows and running sinks
Mold growth
Flooding and storm damage
Whenever any of these problems are plaguing your home, it's best that you call water damage Randallstown specialists right away.
By conducting this assessment, we can better provide the right solutions at the most affordable price, so give our water damage Randallstown team with 911 Restoration Baltimore a call for help today!
Sewage Extractions Done By The Experts
One of the most pressing problems that can affect your home is a sewage backup. This issue occurs whenever there is excess pressure buildup in the city's sewer system.
Once the pressure builds up, sewage can rise up into your home through the toilet and start flooding your home.
Sewage is filled with all sorts of biological contaminants that can cause tremendous harm to floors, walls, and textiles. It can also spread disease.
Fortunately, 911 Restoration's water damage Randallstown team is fully prepared and equipped to take on this water emergency for you.
Once cleared, we will be disinfecting the affected areas using our industrial strength cleaning solutions which will kill bacteria and remove foul odors without causing any further harm.
Restoration With A Fresh Start
We will assist you in filing your insurance claims with your provider for your absolute convenience. We can then proceed with the complete restorations that will ensure your home gets the fresh start it needs.
For issues such as roof leaks, washer bursts, pipe bursts, flooding, and sewage backups, we are the company that you can always count on to be there to help, so give our water damage Randallstown experts with 911 Restoration Baltimore a call today!
Serving the communities of Annapolis, Arbutus, Arnold, Baltimore, Brooklyn, Brooklyn Park, Brookeville , Burtonsville, Butler, Canton, Catonsville, Columbia, Curtis Bay, Dundalk, Ellicott City, Essex, Fort Meade, Gambrills, Glen Burnie, Halethorpe, Hanover, Locust Point, Lutherville Timonium, Middle River, Nottingham, Odenton, Owings Mills, Parkville, Pasadena, Pikesville, Randallstown, Rosedale, Severn, Severna Park, Towson, White Marsh, Windsor Mill, and surrounding areas.