Water Damage Restoration in Canton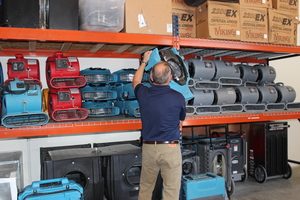 As a property owner in Canton and the surrounding Baltimore area, you are familiar with the dangers water damage can bring to your property. Destroyed furniture and flooring is just the beginning. In severe cases, even the walls and support beams underneath can be compromised. With this type of property damage, the only solution is professional water damage restoration. At 911 Restoration, our IICRC certified technicians are available 24/7/365 ready to get to work on your water damage restoration as well as any possibly needed mold remediation. We guarantee to arrive within 45 minutes no matter if you reside in Canton, Curtis Bay, or any other city in the surrounding Baltimore area.
Mold only needs water to be present for as little as 24 hours to begin growing and thriving. The longer the water sits, the more the mold contamination can spread on the property. That's why prompt water damage restoration is necessary for the health of your property. 
Take action today by calling 911 Restoration for all of your restoration needs. Everything from mold removal to water damage restoration is only 45 minutes away. Get the Fresh Start you can count on to get back to good as new.
Water Cleanup Services
Successful water damage restoration and cleanup is a lot more than just removing the bulk of the water and moving on. It's a complex process that requires trained professionals to resolve. At 911 Restoration, our IICRC certified technicians have combined their years of experience and training to deliver a perfected water damage restoration process for Canton residents. The first step of the process is a visual inspection. The visual inspection helps us learn the severity of the water damage present and determine if mold has already begun growing. We perform a mold inspection in situations where mold is already suspected.
Once the action plan is established it's time for the good part. Using the latest equipment, we perform our combination of water extraction and drying to remove all traces of water damage from the property. We believe in getting the job done correctly the first time, which is why infrared cameras are used to ensure we don't miss a single spot. This is done to prevent the possibility of needing mold remediation services in the near future.
For us, the job isn't complete until any property damage is addressed. As needed, we provide repair work to get your walls, floors, cabinets, and anything else back to normal. This includes making repairs to your pipes in the event of a pipe burst.
Get mold testing or water damage restoration services as soon as you're aware of something wrong on the property. We'll be there within 45 minutes for our Canton residents to deliver the Fresh Start you need.
Flood Restoration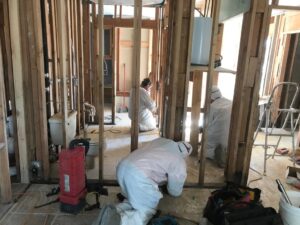 The most severe type of water damage is flooding. Flooding results in more extensive property damage and increases the likelihood of a mold infestation. This is usually thanks to a pipe burst, which reveals itself as a flooded basement. Too much pressure or extreme environmental conditions can compromise your pipe's performance. When flooding occurs, you need flood restoration also known as flood cleanup services.
The more water present, the more likely there is debris or dirt within the water. If it's a septic pipe, then you can count on raw waste being present. No matter what kind of contaminant is present, containment and decontamination is the first part of the day with flood cleanup.
Once decontaminated, water extraction and drying can occur. Should mold be present after all, we will perform mold decontamination services while taking care of the water extraction. Once the property is dried out and thoroughly sanitized, we can begin working on needed repairs. Keep in mind that flooding is usually covered by insurance. We can assist you with the claims process if you need such help.
From mold inspection and mold removal to water damage restoration and flood cleanup, you're covered when you work with 911 Restoration. Call now for the Fresh Start you deserve.
Serving the communities of Annapolis, Arbutus, Arnold, Baltimore, Brooklyn, Brooklyn Park, Brookeville , Burtonsville, Butler, Canton, Catonsville, Columbia, Curtis Bay, Dundalk, Ellicott City, Essex, Fort Meade, Gambrills, Glen Burnie, Halethorpe, Hanover, Locust Point, Lutherville Timonium, Middle River, Nottingham, Odenton, Owings Mills, Parkville, Pasadena, Pikesville, Randallstown, Rosedale, Severn, Severna Park, Towson, White Marsh, Windsor Mill, and surrounding areas.