Water Damage Restoration in Ellicot City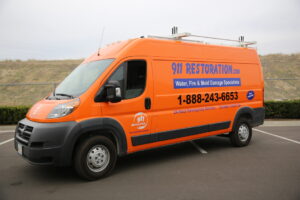 Property owners in Ellicot City and the surrounding Baltimore area know that property damage is something that can happen at any time. One of the most common types of property damage is water damage. Water damage can occur due to a leak under the sink, busted appliance hose or a pipe burst. No matter what the cause is, the best solution is professional water damage restoration by trained and IICRC certified professionals like our technicians at 911 Restoration. We make ourselves available 24/7/365 for our customers in Ellicot City. In addition, no matter where you reside in the greater Baltimore area, we guarantee to arrive within 45 minutes of your call ready to begin your water damage restoration and if necessary, mold remediation.
Any water that has been standing for 24 hours or longer equals a perfect environment for mold to grow and thrive. Should mold be discovered during the water damage restoration process, the only true resolution is mold removal. At 911 Restoration, we are trained to provide mold remediation services along with our comprehensive water damage restoration. The sooner water damage restoration is completed, the less likely you are to need mold decontamination and removal services.
If you notice water damage or suspect mold, don't hesitate to call 911 Restoration. We will be there within 45 minutes ready to provide a Fresh Start regardless if you are in Ellicot City, Butler, Jessup, or any other city in the Baltimore area.
Water Damage Removal
Successful water damage restoration is a comprehensive process that requires trained professionals to accomplish. We have combined our years of experience with the latest training and IICRC certifications to deliver a perfected water damage restoration process to our customers. Once we arrive on the scene, we start with a visual inspection before even one piece of equipment is unloaded. The inspection helps us determine how extensive the water damage is and if mold growth has already begun.
After the inspection, we're ready to get to work. For the next step, we use the latest water extraction and drying equipment to get the property completely dried out. We verifiy that the property is dry with our infrared cameras. These cameras can pick up damp spots that would otherwise be unnoticeable. This additional step prevents us from needing to come back in a couple of months to perform mold remediation services. We believe in a complete and thorough job done correctly the first time.
Sometimes, the property may be damaged, especially when water levels are high. In an effort to get you back to good as new, we provide true restoration by providing needed repairs to the premises. Everything from new sheetrock to cabinet installation is taken care of as part of our emergency restoration.
As soon as you are aware of water damage or suspect mold, then call 911 Restoration for water damage restoration or mold testing. We'll be there soon to ensure that you get your Fresh Start.
Flood Cleanup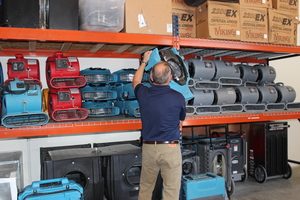 Severe water damage can occur when something like a pipe burst happens. When this occurs, it's known as flooding. Since most pipes are located in the basement, a flooded basement is a common occurrence for homeowners. With flooding, nothing less than flood cleanup services are needed to get back to normal. Flood cleanup requires additional steps beyond standard water damage restoration.
This is because flood water usually contains debris, dirt, or even raw waste depending on the kind of pipe that bursts. Regardless of what kind of material is in the water, decontamination is often necessary and in the case of black water, hazmat gear is needed to keep everyone safe and healthy during the water damage restoration. The more materials present in the water the greater the increased risk of needing mold remediation services.
Once decontamination is complete, that's when water extraction and drying can begin. Sometimes during this stage, mold decontamination is needed. This only occurs if mold was discovered during the flood cleanup process. The good news is that flooding is usually covered by insurance and we are uniquely qualified to assist you in the insurance claims process so you get the help when you need it.
Call 911 Restoration of Baltimore for your flood cleanup, mold testing, or any other restoration service needed. Our residents in Ellicot City and the surrounding Baltimore area know they can count on us for their Fresh Start.
Serving the communities of Annapolis, Arbutus, Arnold, Baltimore, Brooklyn, Brooklyn Park, Brookeville , Burtonsville, Butler, Canton, Catonsville, Columbia, Curtis Bay, Dundalk, Ellicott City, Essex, Fort Meade, Gambrills, Glen Burnie, Halethorpe, Hanover, Locust Point, Lutherville Timonium, Middle River, Nottingham, Odenton, Owings Mills, Parkville, Pasadena, Pikesville, Randallstown, Rosedale, Severn, Severna Park, Towson, White Marsh, Windsor Mill, and surrounding areas.