Water Damage and Mold Removal in Dundalk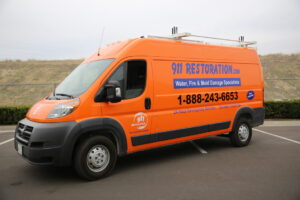 Need water damage restoration in Dundalk or the surrounding area? Call 911 Restoration of Baltimore. Our IICRC certified flood cleanup experts provide the highest standard in service and are dedicated to easing your stress in any disaster. Whether you've endured an out-of-nowhere pipe burst, a horrifying sewage backup, or any other water-related catastrophe, they're prepared to clean up the flood and restore your home or business to its former glory.
You can even call us in the dead of night, on weekends, and on holidays. Expert water damage restoration technicians are standing by 24/7/365. We even guarantee an arrival time of 45 minutes or less, so you're not stuck anxiously watching the minutes tick by as water seeps deeper into your floorboards. 
Every member of our team has completed extensive training in flood cleanup, mold inspection, mold remediation, and all aspects of property restoration. This means they are prepared for any eventuality. There are countless reasons a property owner might need flood cleanup in Dundalk, including storm damage, mold contamination due to the muggy climate, or frozen pipe bursts. No matter what you've been through, our water damage restoration workers have it covered. From water damage inspections to roof repair to mold removal, they do what it takes to make your property solid once again.
In addition to providing excellent service, our water damage restoration staff is determined to make the flood cleanup and mold remediation processes as stress-free for you as possible. This includes providing a free insurance consultation. During this consultation, a water damage restoration expert reviews your insurance policy and clarifies which services your provider covers. Whether you require sewage cleanup, roof repair, or mold decontamination, you go into the water damage restoration with eyes wide open. You even receive assistance with loss itemization, claim filing, and direct billing.
The bottom line: you're never alone with 911 Restoration on your side. From pipe bursts to fungal attacks, consider us your number one ally.
Emergency Flood Cleanup When Disaster Strikes
Whether it's a tornado or a sewage backup, water damage never calls ahead to coordinate schedules. That's why we don't restrict our water damage restoration technicians to business hours. Whenever you need help, we'll be there.
When our flood cleanup experts arrive at your property, they waste no time in assessing the situation and initiating water cleanup services. The crew promptly packs out and stores any precious belongings that could be at risk of damage during the water damage restoration process. Once they've eliminated the threat of additional destruction, they work quickly to minimize the damage that has already been done. Emergency services include water and sewage extraction, boarding up, storm repair, roof repair, leak detection, structural drying, and whatever else it takes to get the water off your property. 
And once the water is gone? 911 Restoration of Baltimore is more than a water extraction company. We believe in turning every disaster into an opportunity for a Fresh Start. This means our water damage restoration technicians help you rebuild your property to its best-ever condition. They repair any damages, from roofing to drywall. They conduct a thorough mold inspection and follow through with mold removal, if necessary. By the time they leave your home or business, your property will be stronger and cleaner than ever.
A pipe burst or storm damage often feels like the end of the world. But 911 Restoration can turn it into a new beginning. Make us your first choice among water removal companies, and we'll give you a Fresh Start.
Residential and Commercial Mold Remediation in Dundalk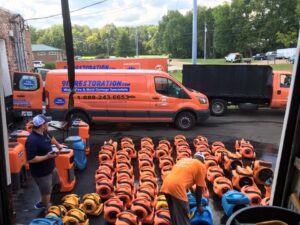 It doesn't matter if you own a home or a business. A mold infestation is always a threat to the integrity of your property and the health of anyone who occupies it. In other words, mold is an emergency, and your wisest move is to call 911 Restoration of Baltimore right away.
Our certified mold remediation workers perform a complete mold inspection, working diligently to discover and identify every patch of growth before beginning old removal services. Mold reproduces through airborne spores, which means mold in your basement could spawn mold in your kitchen walls. With a thorough mold inspection, our mold removal crew ensures no colony is left behind to grow and spread after the technicians have left your property.
Once the mold decontamination workers have identified your infestation, they use advanced tools and strategies to handle mold removal effectively. It's important to leave mold remediation to certified professionals. Many varieties of mold release harmful particles into the air, especially when disturbed by scrubbing or other DIY mold removal techniques. Our mold remediation experts know how to eliminate the infestation without spreading an excess of mycotoxins and other dangerous particles throughout your property.
Once mold removal is complete, the mold decontamination crew uses professional fans for structural dehumidifying. This process dries out the structure where mold grew, leaving it inhospitable to future growth. 
At 911 Restoration of Baltimore, we don't just get rid of the problem. We address the cause and go above and beyond to fortify your property against future disasters. Whether you need water damage restoration or mold remediation, call 911 Restoration of Baltimore for excellent customer care.
Servicing the cities of Annapolis, Arbutus, Arnold, Baltimore, Brooklyn, Brooklyn Park, Brookeville, Burtonsville, Butler, Carney, Canton, Cantonsville, Clarksville, Cockeysville, Columbia, Crofton, Crownsville, Curtis Bay, Davidsonville, Deale, Dundalk, Edgewater, Elkridge, Edgemere, Ellicott City, Essex, Ferndale, Fork, Fort Meade, Gambrills, Garrison, Glen Arm, Glen Burnie, Halethorpe, Hampstead, Hanover, Harwood, Hillsmere Shores, Hunt Valley, Jessup, Kingsville, Lake Shore, Lansdowne, Linthicum Heights, Lochearn, Locust Point, Lutherville Timonium, Manchester, Marriottsville, Mayo, Middle River, Milford Mill, Millersville, Monkton, North Laurel, Nottingham, Odenton, Owings Mills, Parkton, Parkville, Parole, Pasadena, Perry Hall, Phoenix, Pikesville, Randallstown, Reisterstown, Riva, Rosedale, Severn, Severna Park, Shady Side, Sparks Glencoe, Towson, West River, White Hall, White Marsh, Windsor Mill, Woodlawn, and surrounding areas.