Water Damage Restoration in Brooklyn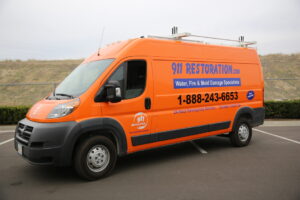 Property owners in Brooklyn and surrounding Baltimore area know that property damage is inevitable at some point. However, sometimes events can occur outside of your control such as water damage. Water damage harms the property by destroying belongings and the property itself. When water damage strikes, the only real solution, is water damage restoration. Our IICRC certified technicians at 911 Restoration are ready to provide mold remediation and water damage restoration services within 45 minutes of your call no matter if you're in Brooklyn, Phoenix, or any other city in the surrounding Baltimore area. In addition, we're available 24/7/365 so we can respond every time.
Once 24 hours have passed, mold can start growing and spreading throughout the property. The only way to prevent mold growth from occurring is prompt and comprehensive water damage restoration. A failure to act is a recipe for needing mold removal services on top of water damage restoration.
Call 911 Restoration immediately if you notice water damage or suspect mold. We'll be there within 45 minutes ready to work. That's our Fresh Start guarantee.
Water Damage Cleanup
The water damage cleanup process is a comprehensive and complex one best done by trained professionals. IICRC certified technicians at 911 Restoration have taken their training and years of experience and developed a streamlined and effective water damage restoration process. It all starts with a visual inspection. Our visual inspection helps us determine how extensive the water damage is, and informs us if mold has already begun spreading.
After the inspection is complete, we unload the equipment to begin the water extraction and drying process. The key to successful water extraction lies in making sure every inch of the property is completely dried out. We verify this is done by using infrared cameras to pick up wet spots that would have been missed otherwise. A successful water extraction and drying process means that mold remediation and mold decontamination won't be needed a couple of months later.
To get the property back to good as new, we also provide any needed repair work. This includes everything from repairing the source of the water damage to fixing any walls and flooring that were damaged during the emergency. In addition, we can provide assistance during the insurance claims process if you need help filling out and submitting your claim.
As soon as you suspect mold or notice water damage pick up the phone and call 911 Restoration of Baltimore. We guarantee to arrive within 45 minutes for our Brooklyn and Baltimore area residents. You can count on a Fresh Start when you call 911 Restoration.
Flood Cleanup Company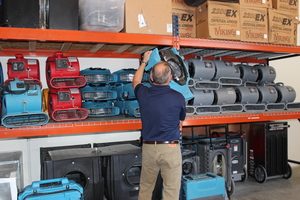 It's not just standard water damage restoration we provide. 911 Restoration is also your flood cleanup company. One of the most common types of flooding is a flooded basement due to a burst pipe. Pipes have a lot of pressure and too much of it can lead to disaster for property owners. Should flooding occur, you need professional flood cleanup services, which includes additional steps to ensure a complete job.
Flood water contains a range of contaminants ranging from debris to raw waste. As such, decontamination is necessary before even attempting to extract excess water. Your health is at risk the longer the water remains standing. The sooner we contain and sanitize the area, the sooner we can begin water extraction and drying before mold sets in. If mold is suspected, we provide mold testing and mold decontamination services in addition to water damage restoration.
Remember, flooding is generally covered by insurance. If you need help with the claims process, you can count on us to provide expert and comprehensive assistance so you get the support you need when you need it.
Brooklyn residents know they can count on 911 Restoration for assistance. Call today to get mold removal or water damage restoration services you can depend on. Get the Fresh Start you need.
Serving the communities of Annapolis, Arbutus, Arnold, Baltimore, Brooklyn, Brooklyn Park, Brookeville , Burtonsville, Butler, Canton, Catonsville, Columbia, Curtis Bay, Dundalk, Ellicott City, Essex, Fort Meade, Gambrills, Glen Burnie, Halethorpe, Hanover, Locust Point, Lutherville Timonium, Middle River, Nottingham, Odenton, Owings Mills, Parkville, Pasadena, Pikesville, Randallstown, Rosedale, Severn, Severna Park, Towson, White Marsh, Windsor Mill, and surrounding areas.