Sewage Backup & Cleanup Baltimore
Are you dealing with water damage caused by an overflowing toilet or a burst sewage pipe in Baltimore, Parkville, Towson or any other surrounding cities? If so, the help you need to handle commercial or residential property restoration is only a phone call away. You can secure professional assistance with sewage cleanup in Baltimore by calling 911 Restoration immediately. Please call us at 410-286-1175
Sewage spills are serious. The contaminants in raw sewage can be hazardous to your health. Sewer backup in Baltimore can also impact your walls, flooring, and even your ceilings. Your possessions could be ruined by a sewage water backup if you don't get help as quickly as possible.
911 Restoration of Baltimore understands the severity of a sewage backup. That's why we keep our phone lines open 24/7/365 at 410-286-1175. You can reach out to us when you need help the most and our crews can reach your property within 45 minutes of an emergency call to:
Offer a Free Visual Inspection for Property Owners Only
Repair Burst Sewage Pipes and Reverse Toilet Backups
Pack Out and Store Any of Your Undamaged Belongings
Give You a Free Insurance Consultation

Handle Total Sewage Water Cleanup
Sewage water backups can occur in both commercial and residential properties in Baltimore, Towson, Parkville or any other surrounding cities. Fortunately, you can get the sewage restoration process started today by contacting the pros at 911 Restoration of Baltimore. Let us restore, repair, and renovate your property so it is returned to better-than-new condition. 
Sewage Backups and Sewage Restoration in Baltimore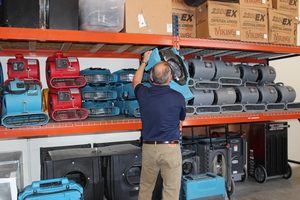 It is generally advised that you do not attempt to handle a sewage backup in Baltimore on your own. Raw sewage is a health hazard. For this reason, sewage cleanup should only be undertaken by trained professionals who have the proper safety equipment.
The sewage water cleanup techs at 911 Restoration of Baltimore have years of experience taking care of sewage restoration for home and business owners in our area. You can count on us to handle:
The Cleanup Process for Toilet Water Damage
Removal of Sewage Water in Your Basement or Crawlspace

Odor Removal and Decontamination After a Sewage Water Backup
We also understand that sewage water damage can lead to a mold infestation in Baltimore, Parkville, and Towson. You can rely on our mold removal techs to offer you a free visual mold inspection for property owners only after a toilet backup or sewage pipe burst.
If our techs spot mold, we can begin the mold remediation  process immediately. Some forms of mold can cause allergic reactions. Other types of mold – like black mold – can even be toxic. Protect your health after a sewage backup by allowing us to thoroughly check over your home or business for signs of mold growth.
Taking immediate steps to begin the sewage cleanup process can give you back your peace of mind after a sewage spill. Let the pros at 911 Restoration of Baltimore begin the sewage restoration process today so you can get the Fresh Start you deserve. Call us at 410-286-1175 and see how we can help you.
Steps in the Sewage Cleanup Process in Baltimore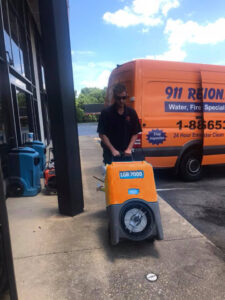 Damage from a toilet overflow or a pipe burst can be wiped away if you contact a sewage restoration company in Baltimore, Towson, or Parkville. The professionals at 911 Restoration of Baltimore are standing by to carry out all steps in the sewage cleanup process.
We can inspect your property for structural damage and to ascertain the extent of the sewage water damage you experienced. Techs can even offer you a free insurance consultation. The crew at 911 Restoration of Baltimore has experience working with all insurance companies and a solid understanding of different types of insurance policies used in the Baltimore, Parkville, and Towson area.
Restoring Your Property to New Again
Once the sewage water cleanup techs have finished their inspections, they can begin removing sewage water from your property. You can count on us to handle flooded basements or even a sewage pipe burst in your yard. Sewage water backups can occur anywhere, so contact a company with experience handling both commercial and residential property repairs.
Techs will clean and disinfect your home or business. You can rely on us to ensure that all odors are removed as part of the sewage cleanup process, leaving you with a property that is in better-than-new condition. So contact our IICRC-certified experts today at 410-286-1175
Get help handling any kind of sewage emergency in Baltimore, Towson, Parkville or any other surrounding cities by contacting 911 Restoration of Baltimore today. You deserve peace of mind and a Fresh Start after you experience a sewage spill.
Serving the communities of Annapolis, Arbutus, Arnold, Baltimore, Brooklyn, Brooklyn Park, Brookeville , Burtonsville, Butler, Canton, Catonsville, Columbia, Curtis Bay, Dundalk, Ellicott City, Essex, Fort Meade, Gambrills, Glen Burnie, Halethorpe, Hanover, Locust Point, Lutherville Timonium, Middle River, Nottingham, Odenton, Owings Mills, Parkville, Pasadena, Pikesville, Randallstown, Rosedale, Severn, Severna Park, Towson, White Marsh, Windsor Mill, and surrounding areas.