Sanitization Services in Baltimore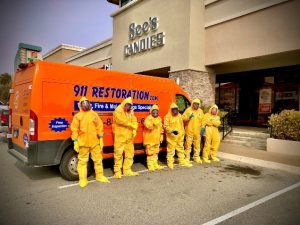 With the recent spread of the coronavirus outbreak, the attention on personal cleanliness is at an all-time high. In addition to individuals, property owners are also feeling the impact of this pandemic. Not only is revenue low thanks to reduced foot traffic, but many of these properties are also the subject of a government-mandated shutdown.
Property owners have a chance to assist the community of Baltimore in efforts to combat this infection even in the midst of shutdown. The reason for this lies in the coronavirus being known to "remain viable for hours to days on the surface." Thanks to this fact, property owners can contribute by staying on top of sanitization and disinfection protocols. In turn, everyone will remain protected from coronavirus when they come back. Call us at 410-286-1175 and see how we can help you.
Understanding the Risk Factors
With coronavirus, anyone is susceptible to catching this virus, which is why staying protected is important. However, people that are elderly, pregnant, or have an otherwise compromised immune system are at increased risk for the most severe symptoms of coronavirus. These symptoms may include kidney failure, severe acute respiratory syndrome, and possibly death.
The outbreak has spread so far because it operates quietly and easily. Symptoms don't show up until a minimum of 14 days later, which is plenty of time for it to spread throughout the city. That's why the only viable solution is to hire the services of trained IICRC–certified technicians to perform covid 19 cleaning services. Please call us at 410-286-1175
Trust Our Sanitization Process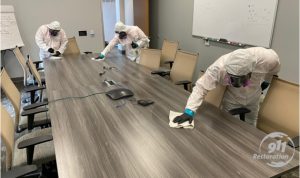 Our IICRC certified technicians at 911 Restoration of Baltimore are standing by 24/7/365 to provide professional commercial and residential covid 19 cleaning services in Baltimore. We deliver a comprehensive service that handled your concerns no matter if it's a commercial property or if you need standard home sanitization and deep cleaning. 
We begin the sanitization process using a decontaminating solution that is modified to neutralize pathogens and dirt on the premises. After we have neutralized the affected area, we can get to work on our cleanup process. 
We take your health and welling seriously. That's why our technicians take the steps necessary to remain current on the latest CDC and EPA protocols. We can provide the means to deliver what you need in addition to the care and understanding you deserve. With 911 Restoration, you can depend on us providing a Fresh Start you and everyone else in Baltimore needs. Call our IICRC-certified 911 restoration experts at our number 410-286-1175