Water Damage Columbia
When the weather picks up and severe storms sweep through the area, the calls for help with ceiling leaks and pipe bursts get more frequent and that's why our water damage Columbia team with 911 Restoration Baltimore are ready for anything.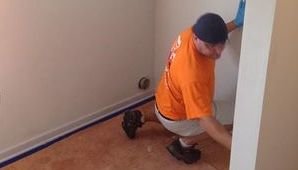 Our water damage Columbia crew know that to provide people with the best restoration work, they need to move quickly and that's why they can arrive within 45 minutes of a call for help.
We are always on point and ready for anything no matter when it takes place. That's why we are available 24/7/365 to handle any water damage that happens in your property.
Beyond being fast to act and quick to the scene at all hours of the day and night, our water damage Columbia team will also always bring the latest drying technology and most advanced suction equipment to every project that they take on.
We are fully mobilized for all kinds of water damage no matter how big or small the situation is. It's our goal to be able to get people back in their homes as quickly as possible after a water damage situation occurs.
If your property has recently been through a flooding event of some sort, then don't wait another minute to contact our water damage Columbia team with 911 Restoration Baltimore for help today!
Prevention Techniques for Avoiding Water Intrusion
When it comes to handling the challenges that water can produce, our water damage Columbia team knows how to take on all different kinds of projects, but they are also experts at helping people to prevent them in the first place too.
We get calls all the time from people who have had a flood of some sort, but we also get calls from people who are trying to find a way to prevent water damage from happening by taking care of their rusted pipes, water heater line, or anything else.
Always make sure that the ambient temperature in your home is above the freezing point so that you don't encounter a pipe burst situation when you least expect it.
Have a look at your appliances that are connected to the water line and make sure that you don't see any small nicks that may become cuts that spew water everywhere when under pressure.
Make sure to clean out your gutters and downspouts at least once a year before winter hits to eliminate the chances of an overflow or an ice dam situation.
It's best to have a plumbing snake scope inspection at least once every two to five years to find any small issues before they grow larger and more expensive as big ones.
Our techs are fully trained and IICRC certified to handle any kind of water damage Columbia job that we encounter, no matter what category of water the home has been exposed to.
If your home is filling up with water currently and you want the best team in the business to handle it and the repairs for you, then contact our water damage Columbia team with 911 Restoration Baltimore for help today!
City Induced Water Main Break Causes Basement Flood
Our water damage Columbia crew with 911 Restoration Baltimore have seen and solved any and all kinds of restoration related challenges in their time, and this has given them the skills and know-how to handle anything they encounter.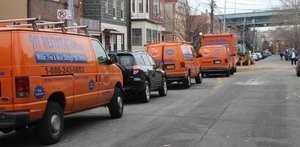 We took on a job recently where the basement had completely flooded up to the first floor because of a water main break near the street that flowed downgrade to the home and filled it up.
When we got there, the city was still working on fixing the water main too.
While this challenge was one that the homeowner could safely rely on the city paying for, it still caused a lot of stress, and that is why we even helped out with all of the insurance paperwork and contact with the city to get the problem solved quickly.
After the city fixed the main, we extracted all of the water from the home and then gave them a full scale restoration. It was quite the challenge, but we made the house look like new again in no time.
If your home is about to be underwater from a city main line break or any other means, then don't wait another second to call our water damage Columbia team with 911 Restoration Baltimore today for help!
Serving the communities of Annapolis, Arbutus, Arnold, Baltimore, Brooklyn, Brooklyn Park, Brookeville , Burtonsville, Butler, Canton, Catonsville, Columbia, Curtis Bay, Dundalk, Ellicott City, Essex, Fort Meade, Gambrills, Glen Burnie, Halethorpe, Hanover, Locust Point, Lutherville Timonium, Middle River, Nottingham, Odenton, Owings Mills, Parkville, Pasadena, Pikesville, Randallstown, Rosedale, Severn, Severna Park, Towson, White Marsh, Windsor Mill, and surrounding areas.