Commercial Restoration
Sewage Cleanup
Whether you're a home or commercial property owner in Baltimore, experiencing a sewage backup dilemma can do far more than just ruin your day. It can pose health risks, property damage, and fire hazards as well.
Some common reasons a sewage backup has occurred include: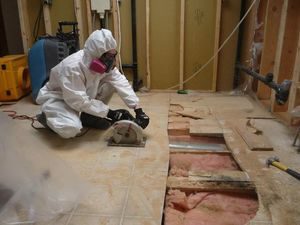 o   Structural defects
o   Wet weather
o   Improper flushing
o   Pipe blockages
o   Burst or leaking pipes
o   Flooding around or under your building
                                                                                 o   Root infiltration
Sewage cleanup should be considered a high-risk emergency since the water may contain bacteria, viruses, and other microbes that can lead to serious illness. 911 Restoration of Baltimore is equipped with the resources, equipment, and knowledge to professionally and safely handle a sewage backup cleanup.           
Sewage Related Cleanup Services Available 24/7/365
Not only are sewage backups messy, smelly, and dirty, but they also pose serious health threats. The contaminants commonly found in sewage water can spread disease. Wastewater is packed with toxic substances such as protozoan, pesticides, fungi, and residuals from medication. According to the National Resources 
Defense Council, there are more than two-million reports of illness caused by sewage problems each year. Don't let yourself or your loved ones become a statistic.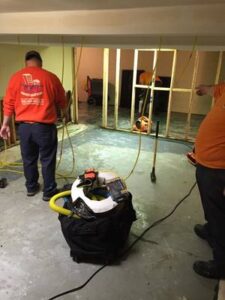 Here are some ways sewage can affect your body:
o   Causes throat, eye, and nose infections
o   Causes cramping and diarrhea
o   Causes muscle soreness and vomiting
o   Causes increased risk of ulcers
If you come into contact with any of the contaminants found in sewage water, you can get very sick and end up in the emergency room. If your property needs sewage cleanup services, it is critical to call experienced experts right away.
Not only can sewage take a toll on your health, but it can negatively impact your home or office building too. You probably already experienced a burst pipe as a result of the sewage backup. But if you sit on the problem for too long, your property will suffer even more damage. This can include traditional signs of water damage in your walls and flooring, as well as insulation and carpeting.
Unchecked sewage backups can lead to the uninhibited growth of bacteria, mildew, and mold. If the problem is extreme, your property could be condemned. Mold can also lead to health issues, especially in young children or people who suffer from allergy or asthma symptoms. Fire hazards can also occur due to a sewage backup. If water levels are able to reach electrical outlets, extension cords, plugs, or gas-burning appliances, do not touch anything and get out of the building as soon as possible.
It is vital that you have sewage cleanup pros get to your home or commercial property immediately. With a 45-minute response time and 24/7/365 availability, 911 Restoration is ready to tackle your sewage backup problem.
Water Removal Service with a Sympathetic Touch
Whether it's from a sewage backup, ceiling leak, or basement flooding, water damage can wreak havoc on your home or retail complex. Not only will it leave ugly stains and musty odors, but it will ruin carpeting, furnishings, upholstery, and wood. On top of that, mold can sprout up only 48 hours after the flooding has occurred. Mold comes with its own set of drawbacks, including severe health risks.
If your property has experienced water damage, it is crucial that you seek help immediately. 911 Restoration of Baltimore can help local residents when they need it the most. Our insured, bonded, and licensed crew members aren't only seasoned experts, they're sympathetic. We understand that water damage afflicting your property can be an awful thing to deal with. It causes undue stress when you think about the damage and costly repairs. This is why we offer empathetic and caring support to all of our clients in their time of need. Our "fresh-start" approach enables us to help you see the silver lining of the situation.
Other benefits that come with using us include: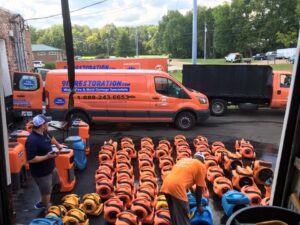 o   A free visual inspection for property owners only
o   Total water extraction, drying, and dehumidifying
o   A free insurance consultation
o   Evaluating and testing for structural damage
o   IICRC certified mold removal services
o   Professional inspection and sampling of mold
o   Third-party lab testing for mold
                                                                                        o   Commercial and residential mold removal
If you have experienced water damage or need sewage cleanup, don't wait a second longer. Call 911 Restoration of Baltimore today to get the restoration process started immediately. We're available 24/7/365 and will be at your door within minutes. Don't wait – call now!
Click here to close