Mold Removal Baltimore Near Me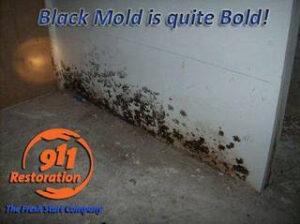 Did you know that almost every property owner in Baltimore and Towson will experience a mold infestation at some point in time? Even if your home is clean and tidy, mold can quietly creep under your floor, into your basement, and even behind your walls. Mold is a pesky intruder that loves dark, damp environments. But despite being harmless in nature, indoor mold can damage your property and negatively affect your health.
If you think your commercial or residential property has a mold problem, help is just 45 minutes away! 911 Restoration of Baltimore's IICRC-certified mold removal experts will make your home or school safe and secure once again!
We're proud to call Charm City home and we're committed to offering our communities high-quality mold removal services. When you call 911 Restoration, you'll receive:
A free visual mold inspection for property owners only

Structural drying and dehumidifying

Third-party professional laboratory mold testing

Complete mold removal

Professional mold inspection and sampling

Same-day service

A 45-minute response time

24/7 availability

A fully licensed, bonded, and insured team of pros

A Fresh Start

And much, much more!
911 Restoration also specializes in water damage restoration, sewage cleanup, sanitization services, fire damage restoration, disaster restoration, and more.
If you need superior mold remediation services, call 911 Restoration of Baltimore now. We'll be there soon.
4 Signs You Need Mold Removal Services in Baltimore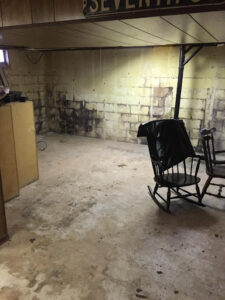 Knowing that there is a mold infestation in your home or retail store can be scary. Thankfully, there are some preventative measures that you can take to keep mold spores at bay.
The first way to protect your residential or commercial property from mold is to know the warning signs of a mold infestation. Four signs of mold include:
A weird smell

: Mold often has a pungent or musty odor. If you notice a muggy smell coming from dark, humid areas of your home, such as your basement, attic, crawlspace, or bathroom sink, you might have mold.

Basement flood or pipe burst: Has your home or office building recently experienced indoor flooding? If so, it's a good idea to check for mold. As we stated before, mold loves moist areas. If there is excess moisture in your basement because of a flood or behind your walls because of a water leak, you might soon have a mold problem. In fact, mold will start growing within 48 hours of an indoor flood. If your property experienced water damage, contact the mold removal experts at 911 Restoration of Baltimore immediately.
Color changes

: Just like when you find a funky loaf of green bread at the back of your closet, mold can cause your walls or ceiling to turn green, yellow, black, brown, white, and even orange. You may also notice peeling wallpaper or bubbling surfaces on your walls.

Health concerns

: Have you suddenly started experiencing sneezing or coughing fits? How about allergy or asthma attacks? You might have mold. Exposure to mold spores can cause a plethora of health problems, including respiratory issues, breathing troubles, watery eyes, runny nose, and more. Infants and the elderly are especially prone to these issues. If you have a young child or senior living in your home, it's critical to call a mold removal company right away.
If you have noticed any of these symptoms of a mold infestation, contact 911 Restoration now. We are available day and night and will be at your door within just 45 minutes of your first call to us.
A Story of Success in Towson
A local Towson homeowner recently called us to prevent mold from further damaging the property. She was a new mother and was scared that the mold would cause harm to her young baby.
911 Restoration of Baltimore arrived at her house within just 45 minutes. We performed a free visual mold inspection, identified the source of the mold, and got right to work. Our same-day mold removal services allowed the property owners to enjoy a safe, clean, and mold-free house right away. She was thankful that 911 Restoration of Baltimore was there to help her in her time of need.
If you need prompt mold removal services, contact our IICRC-certified 911 Restoration experts in Baltimore now. Your Fresh Start is waiting.
Serving the communities of Parkville, Locust Point, Dayton, Baltimore and surrounding areas.