About 911 Restoration Baltimore
911 Restoration Baltimore branch owner Rohan Virawmi is more than just a restoration professional, he is a member of the community who is dedicated to helping home and business owners when they find themselves in the midst of a water damage crisis.
He is backed by 14 years in the construction industry, making him an expert when it comes to handling water damage, mold infestations and property disaster situations.
Rohan has cultivated a family atmosphere at the Baltimore branch, both figuratively and literally. His family is involved in the construction industry and has helped him grow his business, something he is actively pursing with 911 Restoration.
It is important for Rohan to be able to confidently offer his customers the best water damage restoration service in the industry, and he can backup that claim with his IICRC certification and the Good Standing Service Based Business Award in Baltimore.
This branch owner takes pride in his work and wants his customers to recognize his professionalism. Rohan's team will never take shortcuts when they are on a job. When his team is in someone's property they will treat it as if it were their own with respect and caution.
Rohan and is water damage restoration experts know that the best way to mitigate any disaster is by acting quickly, which is why his technicians guarantee to arrive within 45 minutes to begin the recovery process in your home or business.
Water Damage Tips and Tricks From Rohan and His Team Members

Throughout his experience in the restoration field and living in Baltimore, Rohan knows that January and February receive the most rain, snow, sleet and hail. His professionals are trained to handle these extreme weather conditions and are available 24/7/365 to assist property owners.
March tends to be the month that has the most outbreaks of mold, and summer brings the fire season to the community. Sewage tends to be an issue all year round due to the old plumbing systems in Baltimore
Rohan's water damage restoration team members have provided solutions to so many water damage problems in the past that they wanted to reach out and provide the community with the methods that they can use to prevent a situation from ever even happening.
Know when to call a water damage professional – depending on the water source, you could be staring down a category 3 disaster requiring hazmat suits for safety.
Insulate your plumbing during the winter – a frozen pipe burst can pump gallons of water into your home flooding your basement and causing mold in water damage affected places unseen.
Clean your rain gutters – when snow melts and rain storms come in heavy waves, it is important that the precipitation has a way off your roof, otherwise your attic will end up much like your water damage infused basement in the case of the pipe burst.
Direct the flow of water from downspouts away from your structure to prevent pooling near the foundation.

Always take time once a year or so to make sure that your hoses and fittings on the water-based appliances are in perfect working condition to prevent wear and tear from escalating into a rupture situation.
His restoration professionals are true philanthropists and they devote themselves entirely to the betterment of the community and the people who reside within it. So, do not hesitate to contact his water damage restoration team at 911 Restoration of Baltimore for help today.
The Most Dedicated Water Damage Services In The Industry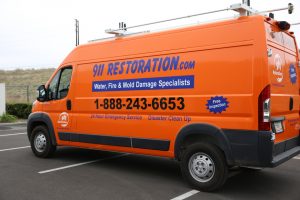 If Rohan is anything, he is a person who cares about his community. When a good friend told him how rewarding it was to be involved in the home restoration field, Rohan jumped at the opportunity to become a part of the 911 Restoration family.
911 Restoration's fresh start guarantee is what really drew him into the company. The idea of giving people a second chance at a new beginning was something he immediately knew he wanted to be a part of.
To Rohan, a fresh start involves being grateful and staying humble, two concepts that he takes very seriously. He is proud to provide top-notch water damage restoration services to the hard working property owners living in Baltimore and when he is hired for a job he does so with pride.
He also knows how trying a situation involving water damage, mold or sewage can be for people, so he endeavors to make life as easy as possible for his customers as soon as his water damage restoration professionals arrive on the scene.
Give Rohan's water damage restoration Baltimore team at 911 Restoration Baltimore a call if you suspect your property is experiencing any type of water damage or mold issue and he will get you on the path to a fresh start by providing you with a free home inspection.