Water Damage Restoration in Locust Point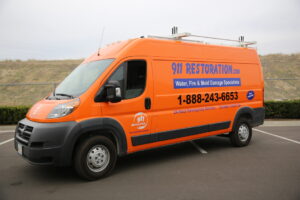 As a property owner in Locust point, you know that property damage is something you always have to protect against. Sometimes, despite best efforts, it happens anyway. One of the most common types of property damage is water damage. Anything from a ceiling leak to a pipe burst can be the cause and all are potentially devastating without prompt action. When this occurs you need water damage restoration done by the IICRC certified technicians at 911 Restoration. We're available 24/7/365 and guarantee to arrive within 45 minutes of your call to deliver mold remediation or water damage restoration services, whether you live in Locust Point, Phoenix, or any other city in the Baltimore area.
Mold begins growing after as little as 24 hours in damp environments. It doesn't even take a lot of water damage to make this possibility a reality. That's why you need prompt water damage restoration. The quicker you act, the less likely you are to need mold removal services.
Everything from water damage restoration to mold remediation is covered when you call 911 Restoration. Get the Fresh Start that starts in 45 minutes whether you reside in Locust Point, Shady Side, or any other city in the surrounding Baltimore area.
Water Cleanup Services
Your water cleanup services need to be provided in a competent and comprehensive manner. Fortunately, you receive both with 911 Restoration thanks to our combination of training and years of experience. This powerful combination has allowed us to hone and perfect our water damage restoration process for our Locust Point residents. Before we begin work, we start with a visual inspection of the premises. During the inspection, we check how extensive the water damage is, and if mold has already begun growing. Once we have our answers and action plan can be put in place.
After the action plan, it's time for water extraction and drying. Nothing less than the latest commercial grade equipment and techniques are used to accomplish this step. The goal is 100% dryness for your property. We ensure that the property is completely dry by using infrared eyes to detect what the eyes cannot. By being as thorough as this, we ensure you won't need mold remediation services a couple of months later.
The last phase of the process is the needed repairs to get the property back to good as new. We make repairs to not only the source of the water damage but also any part of the property that was damaged. This includes the walls, flooring, and any other part of the premises.
Call 911 Restoration of Baltimore as soon as you become aware of water damage or suspect mold. We'll be there to perform mold testing and handle your water damage restoration. With us, a Fresh Start is a restoration away.
Flood Restoration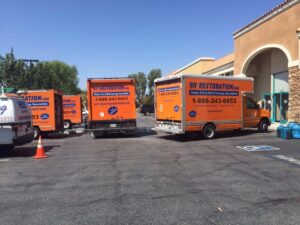 Water damage often takes the form of flooding. With all the pipes present on the property especially in the basement, it's not a surprise. Pipe bursts usually show up in a flooded basement and can spell disaster for owners who are unprepared. Fortunately, flood restoration or flood cleanup services are available with the technicians at 911 Restoration. Our flood cleanup process boasts an additional step to ensure a thorough job is accomplished.
This additional step is our decontamination step. It's necessary with flooding because of the debris and other contaminants found in excess amounts of water. We take your health seriously and won't begin extraction and disturbance of the water until everything is contained and sanitized. Without this step, the chances of mold contamination go up drastically resulting in needing mold removal and mold decontamination services as well.
Once we have sanitized the area, we can begin the water extraction and drying process. During this stage, we continue to investigate any mold development to ensure that nothing is missed. It's important to remember that flooding is covered by insurance so you can have peace of mind knowing that assistance is coming once you file the insurance claim.
Call 911 Restoration for your mold removal or water damage restoration. Whether you live in Locust Point, Brookeville, or any other city in the Baltimore area, we'll be there ready to get to work. With us, you can count on receiving a Fresh Start.
Serving the communities of Annapolis, Arbutus, Arnold, Baltimore, Brooklyn, Brooklyn Park, Brookeville , Burtonsville, Butler, Canton, Catonsville, Columbia, Curtis Bay, Dundalk, Ellicott City, Essex, Fort Meade, Gambrills, Glen Burnie, Halethorpe, Hanover, Locust Point, Lutherville Timonium, Middle River, Nottingham, Odenton, Owings Mills, Parkville, Pasadena, Pikesville, Randallstown, Rosedale, Severn, Severna Park, Towson, White Marsh, Windsor Mill, and surrounding areas.