Water Damage and Mold Removal in Towson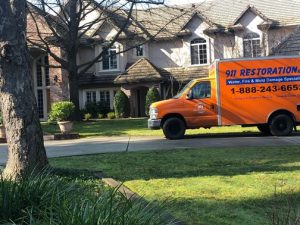 Has an out-of-nowhere pipe burst sent gallons of water spraying into your home? Have you experienced a nasty sewage backup in your business? Are you dealing with a mysterious ceiling leak, major storm damage, or any other water disaster? No matter what you're going through, there's one clear solution. Call 911 Restoration of Baltimore. Our water damage restoration technicians are on call to help you with any emergency, day or night, every single day of the year. When your call comes in, they're on the scene in 45 minutes or less.
We at 911 Restoration value our community highly. That's why you can count on us for fast, compassionate water damage restoration in Towson and the surrounding area. Our flood cleanup crew treat your emergency as if it were their own. That means urgent response times, the highest professional standards, and transparent communication. 
Every member of our water damage restoration staff is IICRC certified in property restoration. They know what it takes to make your home or business as good as new. Do you need emergency water extraction? They're on it. Roof repair? No problem. Mold inspection and mold remediation? Check and check.
The flood cleanup staff even provide a free insurance consultation. After one conversation with one of our water damage restoration experts, you know exactly what to expect from your insurance provider. You know which services they've promised to pay for—from sewage removal to mold decontamination. You can also count on our friendly staff members for help with loss itemization, claim filing, and direct billing.
At 911 Restoration of Baltimore, we know how overwhelming pipe bursts, house flooding, or any other water disaster can be. That's why we promise to deliver true peace of mind, as well as expert service. For the very best in water damage restoration and mold remediation, call 911 Restoration of Baltimore today.
24 Hour Emergency Water Cleanup Service
Property owners in Towson are all too familiar with the stress of water emergencies. Whether it's a leaky basement after a spring storm, pipe bursts after freezing temperatures, or even the nightmare of a tornado or hurricane, local  properties are vulnerable to the whims of Mother Nature. Fortunately, 911 Restoration is prepared to provide emergency flood cleanup in Towson and the surrounding community at a moment's notice.
Our highly trained water damage restoration technicians arrive at your property within 45 minutes of your call. They immediately set to work, providing a water damage inspection and communicating clearly about the extent of your damage and the requirements of your unique situation. Then, the flood cleanup crew works quickly to minimize damage. They do whatever it takes to stop the flow of water. That could mean emergency boarding up, storm repair, roof repair, leak detection, or any other urgent service. They pack out and store items that might be at risk of damage during flood cleanup, and they work fast to extract water or sewage. Once water has been removed, the water damage restoration technicians bring in professional fans to dry the area completely. 
To ensure your property is as resilient as ever, the flood cleanup workers test that the structure is sound and conduct a mold inspection. They repair any damage or weakness they discover, and they handle mold removal personally. In the end, you have a home or business that is good as new.
Other water removal companies may know how to get rid of the water, but only 911 Restoration of Baltimore promises you a Fresh Start. Call now for fast, comprehensive water damage restoration.
Comprehensive Mold Removal in Towson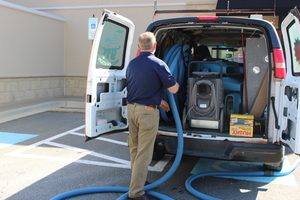 Mold contamination is a common problem following water damage. It doesn't matter if you've had a pipe burst, hurricane damage, or a minor leak. Mold spores quickly find even the smallest trace of moisture and start a thriving mold colony in 24-48 hours. That's why it's so important to order a mold inspection after flood cleaning services.
If you've recently experienced water damage or you simply suspect you have a fungal infestation on your property, turn to 911 Restoration for comprehensive mold remediation. Our certified mold decontamination experts oversee the entire process from mold inspection to final repairs. They inspect your property thoroughly, ensuring that they've discovered every trace of mold in your house or business. Once they have discovered and identified the infestation, they use cutting edge techniques to handle mold removal safely and effectively. The mold remediation experts follow mold removal with structural dehumidifying. And if the infestation caused any permanent damage, the mold decontamination professionals repair or replace the compromised material.
At 911 Restoration of Baltimore, we see all the hard work you've invested in your property. Our water damage restoration and mold removal technicians honor that investment by providing effective and affordable solutions when your most valuable asset is at risk. At any time and in any disaster, call 911 Restoration of Baltimore.
Servicing the cities of Annapolis, Arbutus, Arnold, Baltimore, Brooklyn, Brooklyn Park, Brookeville, Burtonsville, Butler, Carney, Canton, Cantonsville, Clarksville, Cockeysville, Columbia, Crofton, Crownsville, Curtis Bay, Davidsonville, Deale, Dundalk, Edgewater, Elkridge, Edgemere, Ellicott City, Essex, Ferndale, Fork, Fort Meade, Gambrills, Garrison, Glen Arm, Glen Burnie, Halethorpe, Hampstead, Hanover, Harwood, Hillsmere Shores, Hunt Valley, Jessup, Kingsville, Lake Shore, Lansdowne, Linthicum Heights, Lochearn, Locust Point, Lutherville Timonium, Manchester, Marriottsville, Mayo, Middle River, Milford Mill, Millersville, Monkton, North Laurel, Nottingham, Odenton, Owings Mills, Parkton, Parkville, Parole, Pasadena, Perry Hall, Phoenix, Pikesville, Randallstown, Reisterstown, Riva, Rosedale, Severn, Severna Park, Shady Side, Sparks Glencoe, Towson, West River, White Hall, White Marsh, Windsor Mill, Woodlawn, and surrounding areas.