Water Damage Restoration in Middle River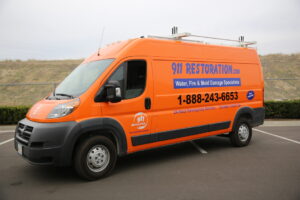 Property owners in Middle River and the surrounding Baltimore area are all familiar with how common water damage is. Everything from a ceiling leak to a pipe burst can cause water damage to occur, and the only resolution available is water damage restoration. At 911 Restoration, we make ourselves available 24/7/365 for our Middle River residents to begin working on their water damage restoration as well as any mold remediation that may be necessary. Whether you reside in Middle River, Phoenix, or any other city in the Baltimore area, you can count on our arrival within 45 minutes of your call.
Once the water has been sitting for 24 hours or longer, a mold infestation becomes highly likely. Mold needs dark and damp environments to thrive, which is why prompt water damage restoration is so important. The faster the water damage restoration begins the less likely you'll need mold removal services.
Everything from mold testing to full water damage restoration and flood cleanup is taken care of by the technicians at 911 Restoration. If you notice any signs of water damage or mold, don't hesitate to call for the Fresh Start you deserve.
Water Mitigation
Proper water mitigation is a comprehensive process that requires the latest methods and techniques to perform properly. Our years of experience backed by the latest training and IICRC certifications have enables us to develop and execute a perfected water damage restoration process that is sure to get property owners back to normal quickly. Before we get to work, we start with a visual inspection of the property. Our inspection allows to understand how far the water damage spreads and determine if any mold contamination is already present.
After the inspection, we unload our equipment. We use nothing but the latest and most advanced water extraction and drying equipment to get the property completely dry. Once the property is dry, we double check our work with an infrared camera to ensure that a spot wasn't missed during the drying process. By doing this, we're preventing the need for mold remediation services a couple of months later.
Water damage restoration can't be deemed complete until all repairs are complete. Our customers in Middle River and other cities in the Baltimore area deserve and depend on a perfectly functioning home. That's why we provide any needed repair work such as new walls or flooring to get you back on your feet. 
As soon as you suspect mold or notice water damage, take action. Call immediately so that restoration efforts can begin. The sooner you call, the sooner you can receive the Fresh Start you need.
Basement Flood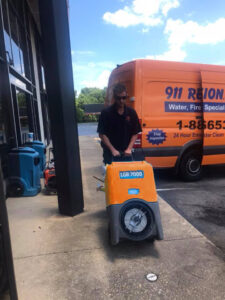 Of all of the rooms on the property, the basement is the most troublesome for property owners. Thanks to all of the pipes present, a flooded basement is quite common for property owners. The pipe burst creates instant flooding and requires professional flood cleanup services to address the problem. With flood cleanup, additional steps are needed to get the job done correctly.
The additional step is the decontamination step. This step is necessary because water that stems from flooding or a pipe burst contains debris, dirt, raw waste, and other contaminants depending on the source of the water damage. To keep everyone safe, we use containment measures along with hazmat gear as needed to ensure that proper barriers are in place while we sanitize and neutralize the affected area.
Water extraction and drying occur once the decontamination is complete. Should mold be discovered during our mold inspection, we will also perform mold decontamination services as well. Our mission is to provide thorough and comprehensive restoration. As such, we are also available to assist owners in the insurance claims process as needed. Getting through property damage is hard enough, you shouldn't have to do the insurance process alone.
Call today for your mold inspection, flood cleanup, or water damage restoration. We will arrive within 45 minutes to deliver the Fresh Start you can count on.
Serving the communities of Annapolis, Arbutus, Arnold, Baltimore, Brooklyn, Brooklyn Park, Brookeville , Burtonsville, Butler, Canton, Catonsville, Columbia, Curtis Bay, Dundalk, Ellicott City, Essex, Fort Meade, Gambrills, Glen Burnie, Halethorpe, Hanover, Locust Point, Lutherville Timonium, Middle River, Nottingham, Odenton, Owings Mills, Parkville, Pasadena, Pikesville, Randallstown, Rosedale, Severn, Severna Park, Towson, White Marsh, Windsor Mill, and surrounding areas.