Water Damage Restoration in Baltimore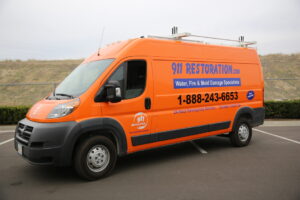 Property owners in Baltimore will find themselves familiar with the need to be vigilant against water damage. Water damage can be a ceiling leak, leaky appliance hose, or even a pipe burst. No matter what the source of water damage is, the fact remains that professional water damage restoration is needed to get the property back to good as new. Our IICRC certified technicians at 911 Restoration are available 24/7/365 to perform any needed water damage restoration or mold remediation services necessary. We guarantee our arrival within 45 minutes whether you live in the heart of Baltimore or in Windsor Mill.
In as little as 24 hours, any water present can begin breeding mold. Mold thrives in a damp environment. That's why the sooner you get water damage restoration services started, the less likely you are to need mold remediation services as well.
Water damage restoration is a phone call away. Call 911 Restoration immediately to get the Fresh Start you need. We'll be there within 45 minutes for our Baltimore area residents.
Water Damage Emergency
When water damage strikes it's an emergency. Water destroys your property from ruining the furniture and carpet to weakening the sheetrock and support beams underneath. At 911 Restoration, we have combined our training and years of experience to deliver a water damage restoration process that will have you breathing a sigh of relief before you know it. Our first step is to perform a visual inspection to assess the level of water damage and determine if any mold is present. After all, knowing is half the battle.
After the inspection is completed, it's time to unload the equipment. Using nothing less than state of the art equipment, we perform our water extraction and drying process to get the property completely dried out. No dampness can remain in order to avoid the need for mold removal in a couple of months. We verify the dryness of your property by using infrared cameras to pick up any wet spots that may have otherwise been missed.
As part of a comprehensive restoration service, we provide any needed repair work. Our technicians are trained to replace any walls or flooring needed to get back to good as new. In addition, our years of experience enable us to provide assistance in the insurance claims process for those who need the help.
Whether you need a mold inspection or water damage restoration call 911 Restoration to begin immediately. Our Baltimore area residents know they are in capable hands when they work with us. Get the Fresh Start you need to begin anew.
Flooded Basement Cleanup Service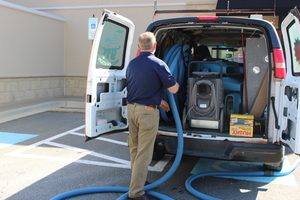 A flooded basement is probably the most dreaded yet common type of severe water damage possible for property owners. This usually occurs thanks to a pipe burst since most pipes have to run through the basement. When the pipe bursts, the result is instant flooding. When flooding occurs, the only viable solution is a comprehensive flood cleanup. Flood cleanup is necessary due to the additional step needed to be successful.
Water from pipes will either contain debris or raw waste depending on if its a normal pipe or a septic pipe. Especially in the case of raw waste being present, hazmat gear is used along with our decontamination process to get the property sanitized and safe for its inhabitants. Failure to completely decontaminate the area is a failure to prevent the need for mold remediation services. We perform mold testing as needed during flood cleanup.
Once we get the area sanitized and contained, water extraction and drying can begin. The focus is on getting the property dried out. If deemed necessary, we will provide a second decontamination. This is usually necessary when mold decontamination is necessary due to mold discovery.
Get the Fresh Start you need by calling 911 Restoration of Baltimore. We'll be there within 45 minutes for our Baltimore area residents ready to handle everything from mold testing to water damage restoration and flood cleanup.
Serving the communities of Annapolis, Arbutus, Arnold, Baltimore, Brooklyn, Brooklyn Park, Brookeville , Burtonsville, Butler, Canton, Catonsville, Columbia, Curtis Bay, Dundalk, Ellicott City, Essex, Fort Meade, Gambrills, Glen Burnie, Halethorpe, Hanover, Locust Point, Lutherville Timonium, Middle River, Nottingham, Odenton, Owings Mills, Parkville, Pasadena, Pikesville, Randallstown, Rosedale, Severn, Severna Park, Towson, White Marsh, Windsor Mill, and surrounding areas.