Water Damage Glen Burnie
When a water related challenge springs up, our experts with 911 Restoration Baltimore and their water damage experts in Glen Burnie are prepped and ready to take it on.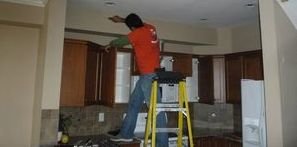 This level of preparation requires not only years of skill in the industry, but also IICRC training and knowledge of the area and what kind of weather effects it might be forced to contend with.
We handle all forms of water damage, from pipe bursts to water heater malfunctions to all the ceiling leaks in between. And our team will be at your property within 45 minutes to get the process started as fast as possible.
Our water damage experts in Glen Burnie know that quick decisive action is critical to saving a structure from loss through water damage situations because if left to linger, the challenges that water inundation can cause will only grow larger.
Beyond being at the scene of a water damage job quickly, we are also available 24/7/365 at 410-286-1175 to take on any project at any time it comes up.
Even if your home floods during the Holiday's we'll be there to take care of it for you. If your home is already experiencing a ceiling leak, or any other form of water damage situation, then don't wait another minute to contact our water damage experts in Glen Burnie with 911 Restoration Baltimore today!
Tips for Avoiding a Water Damage Flood
Our water damage Glenn Burnie team comprises Baltimore's trusted source for all things water damage related when they do occur, but they are also called upon frequently for their expertise and advice on how to prevent water damage all together.
One of the calls that we get the most is from people asking what to do, and how to prevent this or that. So we just compiled a long list of the things that can keep a home safe at all times of the year.
Never let your home's ambient temperature dip too low during the winter as this will create a situation where a pipe burst might occur which can be costly to fix.
Always make sure to clear out and cleanse the gutters on your roof as not doing so may lead to overflows, or even ice dams during the winter, and these can destroy a roof line.
Make sure to direct the discharge from cleaned out downspouts away from the home by at least five feet to stave off any chance of foundation liquefaction.
Have a tried and true professional come and inspect the entire plumbing system within your home to catch any tiny abrasions that may grow larger and become bigger challenges that cost more to fix down the road.
This is by no means all of the techniques that can keep a home safe from water damage, and so if anyone has a question about something specific to do to prevent problems, then they should give us a call today.
If your home is amid a flooding situation by a sprinkler error, water heater rusting out, or any kind of event that can overflow into your home, then contact our water damage Glen Burnie team with 911 Restoration Baltimore today! Call us at 410-286-1175 and allow us to provide you a free visual inspection.
New Apartment Causes Backup in Old House
Our water damage Glen Burnie team with 911 Restoration Baltimore have been providing solutions to the eccentricities of water damage situations for long enough to not be surprised by anything in this business anymore.
One job that we did recently was for a homeowner who had a category three water backup situation in their home three times over the course of a year.
The apartment complex across the street and the main line for the home were linked and whenever the apartment would have a clog, the home would have a backup.
Our water damage Glenn Burnie specialists have been taking on the challenges presented by aging infrastructure for most of their careers and this particular situation was a bread and butter style project for them and they handled it with ease.
We found the source of the backup in the confluence between the apartment and the home main lines and created a permanent separation between the two.
Then we took care of all the category three water that came through the ceiling of the basement in the home, and totally restored it to like new afterwards.
This level of customer care is just the way that our experts do business. The homeowner sends us a fruit cake every year during the holidays because we took such good care of them and their home in this situation.
If your home is being inundated with water damage from a backup in the main line system, or through any other means, don't wait another minute to contact our water damage Glen Burnie team with 911 Restoration Baltimore today! Please call us at 410-286-1175
Serving the communities of Annapolis, Arbutus, Arnold, Baltimore, Brooklyn, Brooklyn Park, Brookeville , Burtonsville, Butler, Canton, Catonsville, Columbia, Curtis Bay, Dundalk, Ellicott City, Essex, Fort Meade, Gambrills, Glen Burnie, Halethorpe, Hanover, Locust Point, Lutherville Timonium, Middle River, Nottingham, Odenton, Owings Mills, Parkville, Pasadena, Pikesville, Randallstown, Rosedale, Severn, Severna Park, Towson, White Marsh, Windsor Mill, and surrounding areas.