Water Damage Arbutus
When homeowners in Arbutus experience water damage from a leaky roof or a pipe burst, our water damage Arbutus specialists with 911 Restoration Baltimore are available 24/7/365 to help the community, all year round.
We are some of the most trusted water damage restoration experts in the business, and we always put the customer first, no matter what the circumstances.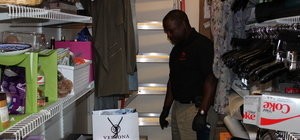 In order to prevent permanent damage, we know our Arbutus leak remediation techs need to arrive on the scene within 45 minutes of any water-related emergency.
Water damage can have residual effects on the home, from structural damage to wood rot to mold growth.  Luckily, we know how to repair all of these issues, with the help of our advanced water damage eradicating technology.
With many years of experience in the field, we can implement repair procedures, no matter how sophisticated the cause of the water damage.
The Arbutus flood removal crews will remediate the issue both quickly and affordably, even working with insurance companies to save you as much money as possible.
When you call our water damage Arbutus team with 911 Restoration Baltimore you can rest assured knowing that we won't let any kind of flooding situation ruin your home today!

We Treat Water Damage with Professionalism
The water damage Arbutus experts are used to handling situations that most homeowners never dreamed they would have to deal with because it is our duty and our privilege to help.
Our water mitigation staff always wants to make sure that our customers are protected, so we want to offer some of our most helpful tips to keep your home dry all year long:
Properties that neglect their gutters tend to experience clogs. Make sure to regularly check that they are clean and free of debris.

If your gutter is clogged up, clear it immediately. This will prevent water from overflowing into the home.

Call a professional to come out and check your roof at least once a year. This will stop any warping, cracking and splitting that may allow water to leak inside the home.

Do not neglect the fittings on large, water-based appliances. When pressure is added to even the smallest abrasions, they might expand and cause water to leak and even flood a space.
The fact that we are so familiar with these niche aspects of the industry are what makes us so reliable. We keep our homeowners informed with everything going on with the restoration job, so everyone is always on the same page.
The overall best way to prevent water damage is to keep your home maintenance up to date, and if you need help, call our Arbutus plumbing experts today!
Water Damage Solutions From Experts

We know that with the help of our Arbutus floodwater removal specialists, we can get your home back up and running in no time, so that you can begin to live like normal again as fast as possible.
On every job we make sure to maintaining the utmost professionalism in order to make you feel taken care of the entire way through. 
Our competent water damage Arbutus restoration technicians immediately conduct free home inspection to ensure that you are comfortable with the scope of the work right off the bat.
We will even give free visual mold inspections, because we know that water damage and mold go hand-in-hand.
The instant you discover that your property has been affected by water damage, call the Arbutus flood mitigation techs.
We are grateful to be given the opportunity to give you and your family a fresh start.
If your property has recently been through a flooding incident of some kind, then don't wait for it to grow mold too. Contact our water damage Arbutus team with 911 Restoration Baltimore for immediate assistance today!
Serving the communities of Annapolis, Arbutus, Arnold, Baltimore, Brooklyn, Brooklyn Park, Brookeville , Burtonsville, Butler, Canton, Catonsville, Columbia, Curtis Bay, Dundalk, Ellicott City, Essex, Fort Meade, Gambrills, Glen Burnie, Halethorpe, Hanover, Locust Point, Lutherville Timonium, Middle River, Nottingham, Odenton, Owings Mills, Parkville, Pasadena, Pikesville, Randallstown, Rosedale, Severn, Severna Park, Towson, White Marsh, Windsor Mill, and surrounding areas.