Fire Damage Restoration Baltimore Near Me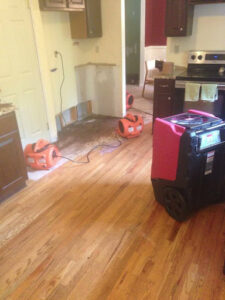 Having a fire burn through your home is one of the scariest experiences property owners in Baltimore and Towson may have to deal with. Not only can a fire seriously damage your commercial or residential building, but it can harm your health.
911 Restoration of Baltimore can support local Charm City residents when times get tough. Our fire damage restoration specialists are available 24/7/365 to provide high-quality smoke removal and soot cleanup services to our communities. With years of experience, our fully licensed, insured, and bonded team is there to take care of you.
When you hire 911 Restoration, you'll enjoy:
A free fire damage assessment for property owners only

A free insurance consultation

Direct insurance billing

Fire information center

Cleaning fire damage with soda-blasting

Permanent odor removal

Smoke removal, soot removal, and ash removal

Inventory listing and lost itemization

Packing out and storing undamaged belongings while work is done

Clothing restoration

Reconstruction and renovation – making your home better than new

A swift 45-minute response time

24/7 accessibility

A Fresh Start

And so much more!
911 Restoration of Baltimore also offers water damage restoration , mold removal , sewer backup cleanup, sanitization services, and more.
If you need help after the flames strike, call 911 Restoration of Baltimore now. We'll be there soon.
Superior Smoke Removal Services in Towson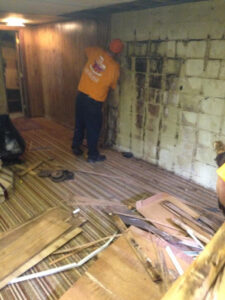 From the time we first opened our doors, 911 Restoration of Baltimore has been committed to providing the cities of Baltimore and Towson with unparalleled fire damage restoration services. We take a customer-centric approach that allows us to always put you at the center of our attention.
Our IICRC-certified technicians are industry experts with specialized training and innovative techniques. We can efficiently remove all traces of smoke, soot, and ash from your residential or commercial property to make it safe and comfortable once again.
There are many benefits to hiring 911 Restoration, including:
Industry-leading services

: When you hire 911 Restoration of Baltimore, you're hiring a team of industry experts. We are a leader in disaster restoration services and will provide you with top-notch services each and every time.

State-of-the-art tools

: We use cutting-edge tools and the latest technologies to efficiently rebuild and restore your home. 911 Restoration utilized soda-blasters, scrubbers, dehumidifiers, and more to deep clean your home and ensure it's soot-free.

Saves you money and time

: When it comes to fire damage, timing is everything. Not dealing with the damages right away can lead to costlier repairs. With 24/7 availability and a prompt 45-minute response time, 911 Restoration of Baltimore will be at your door right away. Our same-day services ensure everything is professionally repaired to mitigate further issues.

A healthy, happy living environment

: 911 Restoration of Baltimore will completely remove all ash, soot, and smoke from your house or school. This provides you with a safe, comfortable environment where you can begin your Fresh Start.
If you want to experience all of the perks of partnering with us, call 911 Restoration of Baltimore now. We'll be at your doorstep soon.
A Baltimore Fire Damage Restoration Success Story
Recently, a local homeowner called us in the middle of the night. Her home had caught fire and she needed fast fire damage restoration. After the firefighters had successfully done their job and put out all the flames, 911 Restoration of Baltimore got right to work.
We provided the homeowner with a free visual inspection to identify any and all problems. We kept her informed during every step of the restoration process to ensure she felt confident and stress-free.
After 911 Restoration of Baltimore has completed the job, the homeowner was able to enjoy a smoke-free and safe home once again. She appreciated our transparency and compassion.
If you need fire damage restoration services, call our IICRC-certified 911 Restoration experts in Baltimore now. We are standing by right now to help. We'll see you soon.