Water Damage Halethorpe
911 Restoration Baltimore assures the homeowners in Halethorpe will receive quality water damage repair and restoration whenever leaks start becoming a major concern.
If you're looking for a fresh start, 911 Restoration is the company you can always turn to.   Our licensed, insured, and bonded experts will take on even the worst emergencies like flooding and storm damage.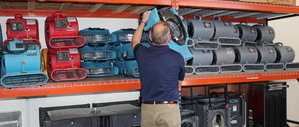 When the roof springs a leak, let us work on the problem right away.
To restore your home as soon as possible, you can expect our technicians to be there within 45 minutes of your emergency call.
We will be available 24/7/365 to offer assistance any time you need leaks of any kind repaired and water extracted.
When faced with an issue like roof leaks, toilet overflows, drywall flooding, or pipe bursts, you can count on our water damage Halethorpe technicians to take on your water woes with the best solutions.
Even at the crack of dawn or in the middle of the night, our team will always be ready to provide the restorations that will give your home a fresh start!
Tips That Will Help Protect Against Water Damage
With over three decades worth of experience in working on various water-related problems, we know how to repair and prevent leaks from harming your home.
Here are a few tips and tricks:
Look for warning signs like rust on pipes and low pressure in the faucets. These are indications of potential problems your plumbing system and being able to detect and repair these issues early can help in preventing bursts.
Make sure you check your roof for any signs of damage like missing or curling shingles. Repairing these issues early on can help you in preventing roof leaks from occurring.
Keep your gutters clear of leaves and debris. This will prevent clogging which can cause water to spillover and damage the roof or foundation.
Check the hoses and connectors for any signs of wear and tear, and replace them if necessary. This will help you prevent any leaks or bursts.
Be mindful of what you flush down the toilet. Flushing grease, oil, or hard paper can lead to clogging which can turn into a sewage backup in the long run.
Our water damage Halethorpe experts want to help you in any way we can, so aside from the repairs we do, we can also furnish you with tips that will help you take a proactive role.
Don't let your home suffer from a water invasion without getting help from the best in the industry. Contact our water damage Halethorpe team with 911 Restoration Baltimore for immediate assistance today!
A Fresh Start With Quality Water Damage Restorations
For effective and thorough repairs and restorations, our water damage Halethorpe team will be using the advanced drying equipment and techniques to extract water and remove moisture from your home.
Our experts are well aware of how mentally taxing these times can be, and this is why we endeavor to walk our clients through every step of the rejuvenation process.
We will even help to fill out and file the necessary insurance claim paperwork for our clients so that they can get back to life as normal as quickly as possible.
We work with your satisfaction and convenience in mind, so we will also assist you in filing your insurance claims for your convenience.
Whenever you need water damage situations like roof leaks, pipe bursts, sewage spills, flooding, or mold growth taken care of by professionals, you can always turn to the water damage Halethorpe team with 911 Restoration Baltimore for assistance, so give us a call today!
Serving the communities of Annapolis, Arbutus, Arnold, Baltimore, Brooklyn, Brooklyn Park, Brookeville , Burtonsville, Butler, Canton, Catonsville, Columbia, Curtis Bay, Dundalk, Ellicott City, Essex, Fort Meade, Gambrills, Glen Burnie, Halethorpe, Hanover, Locust Point, Lutherville Timonium, Middle River, Nottingham, Odenton, Owings Mills, Parkville, Pasadena, Pikesville, Randallstown, Rosedale, Severn, Severna Park, Towson, White Marsh, Windsor Mill, and surrounding areas.