Water Damage Restoration in Pasadena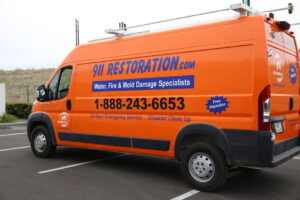 Property owners in Pasadena and surrounding Baltimore area know that property damage comes in many forms and all are equally troublesome. The most common type of property damage is water damage. Water damage can occur due to something as simple and unassuming as a ceiling leak to something truly devastating such as a pipe burst. Whether the water damage starts small or large, the fact is that professional water damage restoration is needed to get back to good as new. At 911 Restoration, our IICRC certification makes themselves available 24/7/365 to handle every aspect of your water damage restoration including mold remediation if needed. We'll be there within 45 minutes of your call whether you reside in Pasadena, Harwood, or another city in the Baltimore area.
If the water damage is allowed to exist for 24 hours or longer you may need mold removal services. Mold thrives in damp environments, which is why prompt water damage restoration is so important. The quicker you get the water damage restoration underway, the more likely you are to not need mold remediation. If a mold infestation is a concern, we are more than happy to provide a mold inspection while we're on the premises.
Call 911 Restoration as soon as you notice water damage or suspect mold contamination. We'll be there within 45 minutes to handle your mold removal or water damage restoration to deliver the Fresh Start you need.
Water Cleanup Services
Water cleanup services involve more than just removing the visible water and calling it a day. True water damage restoration requires IICRC certified professionals who have honed their process over years of experience and training. At 911 Restoration, our process is simple yet effective. Our very first step upon arrival is a visual inspection to assess the extent of the water damage. In addition, this lets us find out if any mold is already present. After the inspection, we have an action plan that will restore the property back to good as new.
The next step is our combination of water extraction and drying. We use the latest equipment to accomplish this step. After this step is completed, it's time to bring out the infrared cameras. These cameras pick up any moisture left behind that can't be discerned by the naked eye. Being vigilant now means that you won't need mold remediation services in a couple of months.
Before leaving, we perform any needed repair work to get the property back to good as new. Everything from new walls and flooring to assistance with your insurance claim is included in our emergency restoration services.
When mold is suspected or you notice water damage, then pick up the phone and call 911 Restoration. We handle everything from mold testing to water damage restoration as part of our Fresh Start guarantee.
Flood Restoration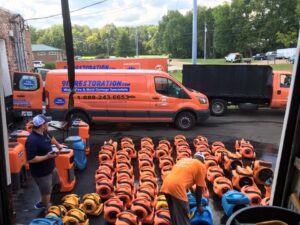 The most destructive type of water damage is flooding. The most common area of the property affected is a flooded basement. Basements contain multiple pipes that all contain water. All it takes is one pipe burst for property owners to need flood cleanup services. With flood cleanup, an additional step must be taken to be successful.
Water from a pipe burst contains either debris and dirt or raw waste depending on the type of pipe that bursts. This kind of water is known as gray water and black water respectively. Both of these types of water require decontamination to sanitize and neutralize the environment before extraction can begin. A lack of decontamination leads to the development of mold. At that point, nothing less than full mold remediation is needed.
Once sanitized, we can perform water extraction and mold decontamination as needed. The main goal is to get the property completely dried out and sanitized so that repairs can be made. Plus, we take your health seriously and doing a thorough job the first time prevents health issues in the future.
Call 911 Restoration immediately if you need emergency restoration services. We have you covered from mold decontamination to flood cleanup. Get the Fresh Start you deserve today!
Serving the communities of Annapolis, Arbutus, Arnold, Baltimore, Brooklyn, Brooklyn Park, Brookeville , Burtonsville, Butler, Canton, Catonsville, Columbia, Curtis Bay, Dundalk, Ellicott City, Essex, Fort Meade, Gambrills, Glen Burnie, Halethorpe, Hanover, Locust Point, Lutherville Timonium, Middle River, Nottingham, Odenton, Owings Mills, Parkville, Pasadena, Pikesville, Randallstown, Rosedale, Severn, Severna Park, Towson, White Marsh, Windsor Mill, and surrounding areas.