Water Damage Ellicott City
For those in need of help when flooding occurs via a pipe burst, water heater breakdown, or even a flooding incident, people rely on 911 Restoration Baltimore and our water damage Ellicott City experts are the go-to source for restoration services.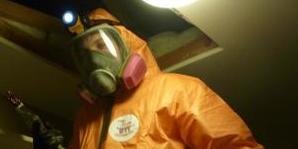 Our water damage Ellicott City specialists know all too well that the best way to prevent damages from increasing when water has invaded a home or business, is to be there quickly with all of the right tools for the job.
Our crews are capable of being at the site of any water damage crisis within 45 minutes so that we can get straight to the heart of the matter and start solving challenges.
This is crucial for preventing water from wicking into drywall and invading areas where it shouldn't be.
Beyond the ability to be at the scene of any water damage incident quickly, our experts are also available 24/7/365 to save homes and businesses.
No matter what kind of damages arise, and no matter where they spring up, our staff can be there for you to take care of everything.
If your home or commercial property is in jeopardy from the effects of water damage, don't wait another minute to contact our the water damage Ellicott City team with 911 Restoration Baltimore today!
Water Damage Prevention Measures for All Sized Properties
Our water elimination experts have been providing solutions to water damage and all of the challenges that go with it for long enough to know that the best ways to keep a home dry, comfortable and safe is to prevent a disaster from occurring in the first place.
We try and help people as much as we possibly can, and that means giving them the advice they need to make sure their home never experiences a water damage crisis in the first place. This is why we have created a long list of ways that property owners can help protect their home.
Never let the debris, detritus, dirt clog up in your gutters or downspouts for too long. When winter hits these obstructions can allow for overflows and ice dams that can severely damage the layers of a roofing system.
Always make sure to check out the fittings, hoses, and connectors that attach your water-based appliances to the main line. If there is any wear and tear on these pieces, you run the risk of a rupture that can spread water damage everywhere.
Check your property for trees that overhang your roof. If there are any dead branches, get them trimmed so that when heavy rain or snow falls, they won't jeopardize your roof if they fall.
Have a skilled and qualified restoration or plumbing professional inspect your entire system for small obstructions that may become larger challenges if left alone.
These are some of the most common challenges that people face when trying to prevent water damage, but there are many more ways that people can keep their homes safe.
If anyone has questions about these points or others that aren't listed here they should call us immediately for help.
If your home is already going through a water damage incident, then don't let it linger for too long or it will inspire mold growth. Contact our water damage Ellicott City professionals with 911 Restoration Baltimore and let them provide your home with all of the help it needs today!
Prolonged Water Invasion Causes Mold Damage
Many of the projects that our water damage Ellicott City specialists with 911 Restoration Baltimore take on are newly developed or in progress when we get to the site.
But occasionally they are called out to challenges that involve long standing water damage that has taken place over years.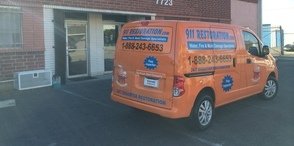 We recently went to a job where the upstairs bathroom had a plumbing issue that was simply neglected for so long that the majority of the house had a mold contamination.
For this particular job our water damage Ellicott City team found that when the upstairs toilet would flush, a portion of the discharge leaked into the floor, ran down the walls, and collected in various gravitationally oriented placed throughout the home.
There was mold everywhere because every time they flushed they introduced more water and food supplies to the mold colonies and fueled their growth. We ended up rehabbing large sections of the walls, floors, and ceilings in the home.
After eliminating the soaked, mold, and odor-containing drywall, our water damage Ellicott City team sealed off the affected areas of the home and began mold removal and abatement services which brought it back to normal in no time, and at a great value too.
If your home is already amid a water damage incident, then don't wait for it to develop into a mold contamination challenge too. Contact our water damage Ellicott City team with 911 Restoration Baltimore today!