Sewage Backup & Cleanup Baltimore
Eliminating the challenges that arise from a category three water contamination requires the most dedicated cleanup effort by water damage restoration technicians who are licensed, insured, bonded, and IICRC certified, like the experts at 911 Restoration of Baltimore.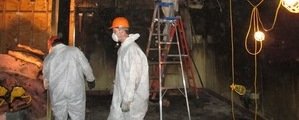 When it comes to sanitizing a property after a sewage backup takes place, fastidious action is required, which is why the sewage backup team guarantees to arrive within 45 minutes of being notified of your issue.
The Baltimore branch is ready and capable of taking on any project, any time, with sewage backup technicians who are available 24/7/365. This means customers can call the office literally any time to receive immediate water damage restoration services.
This makes 911 Restoration of Baltimore the go-to source for people dealing with black water emergencies who need sewage backup and water damage restoration services. To provide property owners with the best experience, the water damage restoration experts make sure to always put the customer first in every situation, and that means walking people through all steps of the restoration process.
So, if your home or business has recently been impacted by a sewage backup and you need cleanup services from the best in the industry, don't hesitate to contact the Baltimore branch today!
Sewage Backup Prevention Tips
The water damage restoration experts have been cleaning up sewage backup situations for years and know exactly how to tackle such a situation.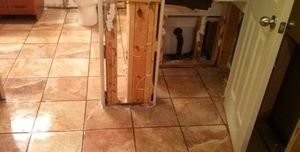 In fact, not only are the Baltimore professionals confident in cleaning up black water incidents, but they are also proficient at helping people to prevent these scenarios altogether too.
The branch regularly gets calls from people who just want to know what they can do to protect their homes if a sewage backup occurs in their property.
So, to best help the community, the staff created a list of all the prevention measures that home and business owners can take to keep their properties from being overwhelmed by sewage.
One way to make sure that your home doesn't spring a leak is to ensure that your backflow valve is in perfect working condition at all times.

Another method for protecting the home from the impact of sewage is to never flush anything down the drain that the system was not intended to handle. This includes multi-ply paper and even products that claim to be biodegradable.

Have a plumbing or restoration professional come over to your home and inspect your entire system at least once every two to five years for obstructions that may grow and become greater challenges down the road.

Never let your sump pumps overheat, as this may cause them to break down and then they won't be able to discharge the influx of category three water if there is a main break nearby.
There are a host of ways that people can protect their property from needing water damage restoration services, so if you have questions about a particular issue occurring in your home or business, give us a call to find out more.
A Category Three Backup Can Cause Mold Growth
The water damage restoration team knows all there is to know about restoring commercial and residential properties after a sewage overflow has taken place.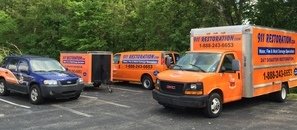 This is why the cleanup unit is capable of getting straight to the heart of an issue whenever they are called out to a job. There are many peripheral issues that sewage can create, with mold growth being one of the major ones.
In one incident in particular, when technicians got to the site of the sewage backup, it turned out to be a much larger project than they had originally described and actually ended up involving a massive mold cleanup operation.
Fortunately, due to all of their experience, the specialists got straight to work eliminating the excess sewage, extracting water, and fixing the backflow valve that failed in the first place. After fixing the source of the sewage backup, the technicians sealed off all areas that were affected by mold growth so that they wouldn't spread spores and create additional colonies while eliminating soaked drywall and carpeting.
This was a large project, but 911 Restoration of Baltimore was able to turn it all around. The staff even helped the property owner with all of their insurance paperwork. This way we could help the customer with as much as possible to give them back their peace of mind.
If your home or business recently has experienced a sewage crisis of some sort and you need the best water damage restoration services in the industry, then don't wait for another second to contact 911 Restoration of Baltimore today!