Mold Removal in Locust Point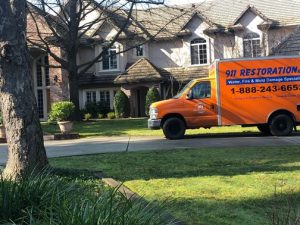 While there are many forms of property damage that affects owners in Locust Point and surrounding cities, the most potentially devastating is mold. Mold is subtle and can grow for months before you become aware of its existence. Not only does it eat away at your organic materials, but it can also cause health issues. That's why our IICRC certified technicians at 911 Restoration of Baltimore are ready 24/7/365 to handle everything from mold inspection to mold remediation. Whether you live in Locust Point, Hampstead, or another city in the Baltimore area, we guarantee to arrive within 45 minutes of you contacting us.
You can protect yourself better against mold by remaining aware of the signs listed below:
Rotting wood

Crumbled drywall

Visible mold

Breathing problems

Headaches

Persistent cough

Pungent odor
Make sure you don't try to clean the mold on your own. Normal cleaning methods only stir up the mold spores which makes them go airborne. Once airborne, they can spread and colonize new areas on the property. That's why professional mold removal is the only viable solution for property owners.
If you suspect mold, then call 911 Restoration immediately. We'll be there to bring you a Fresh Start you need to move forward.
Mold Removal Companies
Our IICRC certified technicians strive to be your mold removal company by taking their training and years of experience and combining them to deliver a perfected mold remediation process that offers guaranteed results. Our approach makes us perfect whether you need mold decontamination or full mold remediation in addition to other emergency restoration services.
Mold remediation can't be done properly without our first step, which is a mold inspection. Our inspection helps us develop our plan of attack to combat the mold infestation. After that, we can work on the next part of our process, which is a two-step endeavor.
The first part of our two-step is containment. We don't want the mold to spread so we use vapor barriers and other containment measures to keep the mold in one area. Once contained, we can proceed with mold decontamination. In this step, nothing less than industrial grade cleaners and detergents are used to neutralize the mold. After decontamination, we can proceed with the actual mold removal. During this entire process, we also work on any water damage restoration needed to get the property completely dried out.
Any physical damage suffered by property owners is taken care of by our technicians. We do it all from repairing walls and support beams to fixing the source that caused the mold infestation in the first place. We provide these services so that our approach remains tailored to your needs.
As soon as you suspect mold, call 911 Restoration. Everything from mold inspection to mold removal is a phone call away. Get your Fresh Start today!
Water In Basement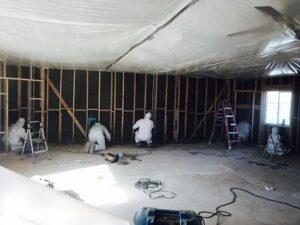 The basement is a haven for mold to grow and spread in. The reason for this is because it's naturally dark and often damp thanks to water in the basement. Pipes leak all the time and their heavy presence in the basement only makes the problem worse. With water in the basement, you can count on the need for a full mold remediation being needed if it's not addressed quickly enough.
When mold is able to thrive, it can sometimes be toxic mold. Toxic mold provides even greater health problems that require us to don hazmat gear while working on your mold decontamination. Should the mold be potentially toxic, we offer mold testing services for our Locust Point customers. We take your health seriously and refuse to cut any corners during mold remediation.
In some cases, we even offer a second round of mold decontamination to ensure that the property is completely safe for the residents within. As part of a complete process, we offer assistance with the insurance claims process so that you can get the help you need during a difficult time.
Whether you live in Locust Point, Parkville, or another city in the Baltimore area call 911 Restoration for your Fresh Start. We'll be there in 45 minutes ready to work.
Servicing the cities of Annapolis, Arbutus, Arnold, Baltimore, Brooklyn, Brooklyn Park, Butler, Carney, Canton, Catonsville, Clarksville, Cockeysville, Columbia, Crofton, Crownsville, Dayton, Deale, Dundalk, Edgewater, Elkridge, Edgemere, Ellicott City, Essex, Ferndale, Fork, Fort Meade, Garrison, Glen Arm, Glen Burnie, Halethorpe, Hampstead, Harwood, Hillsmere Shores, Hunt Valley, Jessup, Kingsville, Lake Shore, Lansdowne, Linthicum Heights, Lochearn, Locust Point, Lutherville-Timonium, Manchester, Marriottsville, Mayo, Middle River, Milford Mill, Millersville, Monkton, North Laurel, Nottingham, Odenton, Owings Mills, Parkton, Parkville, Parole, Pasadena, Perry Hall, Phoenix, Pikesville, Randallstown, Reisterstown, Riva, Rosedale, Severn, Severna Park, Shady Side, Sparks Glencoe, Towson, West River, White Hall, White Marsh, Woodlawn, and surrounding areas.