Mold Removal in Baltimore
Property owners in Baltimore and surrounding cities are familiar with the need to be on guard against property damage. Unfortunately, despite best efforts, it can still happen. One of the sneakiest forms of property damage is a mold infestation. The slightest bit of dampness in a dark area can cause mold to grow and thrive, which is why it can be so difficult to detect. At 911 Restoration, our IICRC certified technicians are ready to handle everything from mold inspection to full mold remediation for our Baltimore area residents. We are available 24/7/365 and guarantee arrival within 45 minutes of your call no matter if you live in Baltimore, Hunt Valley, or any other city in the surrounding area.
Mold may be subtle but you can get ahead of the problem by remaining aware of the most common signs of a mold infestation which include:
Rotting wood

Crumbled drywall

Visible mold

Breathing problems

Headaches

Persistent cough

Pungent odor
It's important to understand that the worst thing you can do is attempt to clean the mold yourself. The scrubbing method along with standard cleaners only serve to agitate the mold. When agitated, the mold spores become airborne and can create new colonies making the problem worse than it was originally. Due to this, the only viable solution is mold removal performed by trained professionals. 
Call 911 Restoration as soon as you suspect mold. Everything from mold decontamination to mold remediation is taken care of by our IICRC certified technicians. Don't wait to get the Fresh Start you need.
Mold Removal Companies
Mold remediation is a comprehensive process that we have perfected thanks to our years of experience and training, which is what makes us your mold removal company. Part of our effort to provide the best service possible is a localized approach that takes into account the unique environment of Baltimore. This focused effort begins with a visual mold inspection to determine how far the mold has spread as well as its point of origin.
Once the area of contamination has been identified containment is the name of the game. We use the latest equipment such as vapor barrier to keep the mold from spreading to other areas of the property. If excess water is found to be the cause of your mold infestation, we will also perform water damage restoration services. During containment, we work on mold decontamination to sanitize the area and neutralize the mold itself. After that, we can proceed with the mold removal to round out the restoration process.
In addition to addressing the immediate problem, we also make any needed repairs to get you back to good as new and to ensure that the problem won't repeat itself in the near future.
If you suspect mold, then call 911 Restoration for your Fresh Start. We'll be there to handle your mold removal and mold cleanup.
Mold in Basement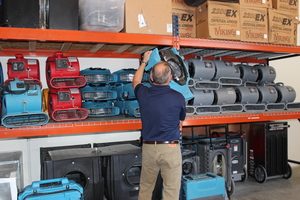 In addition to a wet environment, mold thrives in a dark environment as well. That's why one of the most common areas of disturbance is mold in the basement. This is especially likely if the pipes are leaking or even worse they burst. The more water present in such a naturally dark room, the greater chance there is of needing mold remediation.
Sometimes, mold can be toxic mold. Toxic mold is not only hazardous to your health it can also be deadly if left alone for too long. That's why we provide mold testing services in cases where the mold is suspected to be toxic. Fortunately, the mold removal process is the same save for us donning protective hazmat gear. If needed, we may provide additional mold decontamination to ensure that the area is completely safe for the residents of the property.
Prompt action is needed with mold remediation. Call 911 Restoration of Baltimore as soon as you suspect mold. Whether you live in Baltimore, Butler, Canton, or any other city in the area you can count on us to arrive within 45 minutes to deliver your Fresh Start.
Servicing the cities of Annapolis, Arbutus, Arnold, Baltimore, Brooklyn, Brooklyn Park, Butler, Carney, Canton, Catonsville, Clarksville, Cockeysville, Columbia, Crofton, Crownsville, Dayton, Deale, Dundalk, Edgewater, Elkridge, Edgemere, Ellicott City, Essex, Ferndale, Fork, Fort Meade, Garrison, Glen Arm, Glen Burnie, Halethorpe, Hampstead, Harwood, Hillsmere Shores, Hunt Valley, Jessup, Kingsville, Lake Shore, Lansdowne, Linthicum Heights, Lochearn, Locust Point, Lutherville-Timonium, Manchester, Marriottsville, Mayo, Middle River, Milford Mill, Millersville, Monkton, North Laurel, Nottingham, Odenton, Owings Mills, Parkton, Parkville, Parole, Pasadena, Perry Hall, Phoenix, Pikesville, Randallstown, Reisterstown, Riva, Rosedale, Severn, Severna Park, Shady Side, Sparks Glencoe, Towson, West River, White Hall, White Marsh, Woodlawn, and surrounding areas.