Mold Removal in Parkville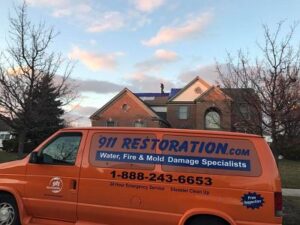 As a property owner in Parkville, you know that property damage comes in many forms. One of the hardest forms of property damage to protect against is mold. Mold can be subtle and grow over time or it can spring up practically overnight as an add-on to water damage. Regardless of how it develops, what's important is getting professional mold removal as soon as you're aware of the mold. Our IICRC certified technicians are ready to handle every aspect of your mold remediation anytime 24/7/365. Whether you reside in Parkville, Butler, or any other city in the Baltimore area we'll be there within 45 minutes of your call.
You can get ahead of the problem by being aware of the most common signs of mold contamination which are:
Rotting wood

Crumbled drywall

Visible mold

Breathing problems

Headaches

Persistent cough

Pungent odor
Make sure you don't try to clean and remove the mold on your own. Normal methods and cleaners only agitate the mold and will result in the spores spreading and establishing new colonies. For this reason alone, you need professional mold removal and mold decontamination services.
If you suspect mold don't be afraid to call. At 911 Restoration, we handle everything from mold inspection and testing to full mold remediation. Get your Fresh Start today.
Mold Removal Companies
As a mold removal company, our focus is on delivering a complete and comprehensive mold remediation service. Over the years, we have combined our experience and training to deliver a perfected mold removal process to our Parkville residents. Our process starts with a visual mold inspection to determine the point of origin and how much the growth has spread. 
With a completed inspection, an action plan can develop and we can begin unloading the equipment. The first step is to use our vapor barriers and other containment measures to contain the mold. We don't want the mold to spread while we use our commercial grade detergents and cleaners to perform mold decontamination. After the area is sanitized, we can proceed with the actual mold removal. During this process, we also take the time to dry the property out so you don't have a repeat occurrence of mold contamination.
Should physical damage occur, we also provide repairs to the source of the mold as well as the damages pieces of the property. Everything from sheetrock to support beams is included in this part of our emergency restoration.
Call 911 Restoration of Baltimore to get your mold inspection, mold decontamination, or mold remediation done. The quicker you respond, the lower the impact. Get the Fresh Start you can count on.
Mold in Basement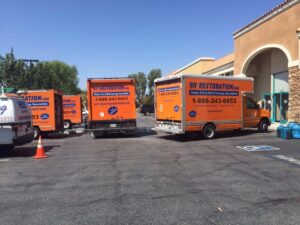 Mold can grow anywhere on the property, but it really thrives in the basement. The reason why you often find mold in the basement is because the room is naturally dark and damp. If your pipes aren't sealed or functioning properly, you may find the amount of water in the basement to be excessive. The more water there is, the greater the amount of mold when you discover it. That's why oftentimes, both water damage restoration and mold remediation are performed in conjunction with each other.
Our mold removal process is the same in the basement as it is in any other part of the house. However, darker environments can breed more toxic strains of mold. If you notice unusually severe health issues, we will perform mold testing and sampling to rule out the mold being toxic. If left alone too long, toxic mold can cause organ shutdown and even death in some cases.
We take your health seriously, which is why our mold decontamination process is so comprehensive. Between containing the mold and using nothing less than industrial grade cleaners and detergents we ensure that even the strongest mold doesn't stand a chance. After that, we remove all traces of mold and dry the property out completely to keep mold away over the long-term.
Get the mold inspection and removal you need by calling 911 Restoration. We'll be there soon to deliver a Fresh Start that has you breathing easy.
Servicing the cities of Annapolis, Arbutus, Arnold, Baltimore, Brooklyn, Brooklyn Park, Butler, Carney, Canton, Catonsville, Clarksville, Cockeysville, Columbia, Crofton, Crownsville, Dayton, Deale, Dundalk, Edgewater, Elkridge, Edgemere, Ellicott City, Essex, Ferndale, Fork, Fort Meade, Garrison, Glen Arm, Glen Burnie, Halethorpe, Hampstead, Harwood, Hillsmere Shores, Hunt Valley, Jessup, Kingsville, Lake Shore, Lansdowne, Linthicum Heights, Lochearn, Locust Point, Lutherville-Timonium, Manchester, Marriottsville, Mayo, Middle River, Milford Mill, Millersville, Monkton, North Laurel, Nottingham, Odenton, Owings Mills, Parkton, Parkville, Parole, Pasadena, Perry Hall, Phoenix, Pikesville, Randallstown, Reisterstown, Riva, Rosedale, Severn, Severna Park, Shady Side, Sparks Glencoe, Towson, West River, White Hall, White Marsh, Woodlawn, and surrounding areas.