Water Damage and Mold Removal in Dayton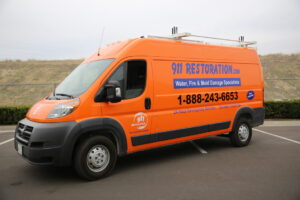 Dayton is a beautiful community. The historic local properties are no doubt among some of the most stunning in the country. But even homes and businesses that have already stood the test of time are vulnerable to the ever-present threat of water damage. Between winter storms, hurricanes, and hot, muggy summers, there is always a need for mold remediation and water damage restoration in Dayton and the surrounding area. Fortunately, 911 Restoration of Baltimore is always here for you, too.
Our lines are open to you day or night, 365 days a year. In any water emergency—be it pipe burst, sewage backup, or a storm-related disaster—you can expect our flood cleanup experts at your door in 45 minutes or less. That is our guarantee to you.
We don't just offer speedy water cleanup service. We also offer the highest standards in the industry. Our flood cleanup specialists have all undergone the most extensive training in water damage restoration, mold inspection, and mold removal. They handle everything it takes to make your property feel brand new again. Water extraction and sewage removal? They've got it covered. Roof repair and drywall replacement? No problem. They even oversee every aspect of mold decontamination to ensure that today's pipe burst doesn't turn into a thriving infestation down the road.
Along the way, these compassionate technicians provide total peace of mind through clear communication. You always know exactly what to expect during water damage restoration, including what to expect from your insurance provider. A friendly staff member sits down with you to review your insurance policy. They explain which aspects of flood cleanup your provider covers. Then, they assist with all your paperwork to make sure you get the coverage you deserve. Best of all, this insurance consultation is completely free to you.
From pipe bursts to traumatic storm damage, our water damage restoration technicians have seen it all. They know the stress you're under, and their first goal is to ease your mind so you can focus on moving forward. For compassionate service and a Fresh Start, call 911 Restoration of Baltimore today.
Comprehensive and Compassionate Flood Cleanup in Dayton
At 911 Restoration of Baltimore, we believe every challenge is an opportunity to start over, better than before. This philosophy has kept us motivated, inspired, and reassured in all of life's disasters, and we work hard to pass that feeling on to our neighbors.
Your dedicated water damage restoration crew approaches your pipe burst, sewage backup, or other incident with an eye on the future. They work urgently to get water off your property right away. But unlike other water removal companies, their ultimate goal is bigger than water extraction. They want to make your property feel brand new again. This means that once they've extracted the water or sewage and fully dried your property, they handle repairs and mold remediation. Depending on the extent of your water damage, you could be dealing with a weak ceiling, rotted drywall, warped floorboards, or even roof damage. The water damage restoration professionals conduct a full water damage inspection, checking to see that your property is still sound after house flooding. If they discover even minor damage, they handle repairs personally. They conduct a mold inspection, mold decontamination, and structural dehumidifying to prevent long-term infestation.
In short, they do what it takes to make sure you're left with a property you can be proud of.
At 911 Restoration of Baltimore, we see how hard you've worked to care for your property. There's no reason why a water disaster should ruin your masterpiece. Call us today and let us make things right.
Why Mold Removal is an Essential Aspect of Water Cleanup Services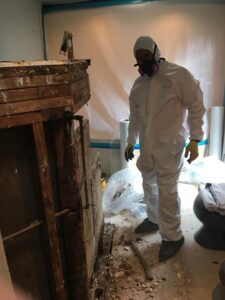 Our water damage restoration staff always include a mold inspection in their flood cleanup services. No matter how clean your home or business is, mold spores are always in the air around you. When a water incident strikes, these spores waste no time in finding a damp place to land. And once they've landed, they can create a mold colony in as little as 24 hours.
Our mold remediation technicians perform a complete mold inspection after water damage. They check all the dark nooks and crannies where mold is most likely to thrive. If their mold inspection reveals growth, they then identify the species and handle mold removal accordingly. As a property owner, you may be tempted to skip mold remediation services and conduct mold decontamination yourself. Unfortunately, do-it-yourself mold decontamination will only cost you more money in the long run.
You see, household cleaners are rarely effective when it comes to mold removal. Even when they do seem to work, they don't address the root cause of the problem—moisture in the structure of your home or business. Mold remediation professionals use specialized tools to completely eliminate this moisture, preventing a repeat infestation.
There are also health risks associated with handling mold removal yourself. Most varieties of mold are allergenic, pathogenic, or toxigenic. Translation: they release dangerous particles that are harmful to your health when inhaled. If you attempt mold remediation by scrubbing at a colony, you cause the mold to release those particles up into the very air you breathe. Certified mold removal professionals are equipped to handle this process in a manner that is far safer.
If you need mold removal in Dayton or the nearby communities, choose the safe and affordable option. Choose 911 Restoration of Baltimore.
Servicing the cities of Annapolis, Arbutus, Arnold, Baltimore, Brooklyn, Brooklyn Park, Brookeville, Burtonsville, Butler, Carney, Canton, Cantonsville, Clarksville, Cockeysville, Columbia, Crofton, Crownsville, Curtis Bay, Davidsonville, Deale, Dundalk, Edgewater, Elkridge, Edgemere, Ellicott City, Essex, Ferndale, Fork, Fort Meade, Gambrills, Garrison, Glen Arm, Glen Burnie, Halethorpe, Hampstead, Hanover, Harwood, Hillsmere Shores, Hunt Valley, Jessup, Kingsville, Lake Shore, Lansdowne, Linthicum Heights, Lochearn, Locust Point, Lutherville Timonium, Manchester, Marriottsville, Mayo, Middle River, Milford Mill, Millersville, Monkton, North Laurel, Nottingham, Odenton, Owings Mills, Parkton, Parkville, Parole, Pasadena, Perry Hall, Phoenix, Pikesville, Randallstown, Reisterstown, Riva, Rosedale, Severn, Severna Park, Shady Side, Sparks Glencoe, Towson, West River, White Hall, White Marsh, Windsor Mill, Woodlawn, and surrounding areas.