The Water Damage Restoration Process: How Do Experts Do It?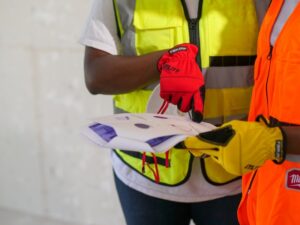 If you think hiring a water damage restoration company is unnecessary, think again.
Water damage can quickly become a homeowner's nightmare if it's left undetected. Most of the time, these small leaks cause seepage, or they start flooding your rooms. Subsequently, these situations lead to structural damage, mold growth, and other maintenance issues. Not to forget the potential health risks it poses for you and your family.
Calling in specialists becomes non-negotiable in these situations.  Trained technicians have the expertise to deal with severe water damage while preserving the integrity of your home.
Here's a step-by-step overview of how the water damage restoration process works:
Phase 1: Water Damage Restoration Assessment
As an experienced water damage restoration company, we conduct an official inspection before beginning the project. It allows technicians to determine the extent and severity of the damage done. As well as knowing how much work is required to fix it.
We ask questions like:
What is the main source of the water damage?
How long has it been since you saw the first signs of water damage?
How much water needs to get pumped/extracted?
How much has water absorption already occurred?
Is there any structural damage? Do you need to rebuild certain sections of the house?
Besides this, we use specialized moisture detectors to test water absorption levels.  During the assessment, we rate the water damage.  Category 1-3 i.e., damage done by freshwater damage, grey water, or black water. It's broken down further into Class 1-4, ranging from simple repairs to complete restorations.
We understand that every water damage restoration project has individual requirements. These details make it easier to develop a cost-effective restoration plan that aligns with your situation.  Our home restoration experts always keep your budget in mind when we create these plans.
After this, you will receive a tentative timeline that illustrates how long it will take our team to restore your property.  Rest assured, you can count on our team to coordinate schedules and notify you about potential delays throughout the process.
Phase 2: Water Removal
Flooded basements, roof leaks, and burst pipes often lead to a few inches/feet of standing water. Its presence can pose a significant threat to your property. It can cause severe structural damage, trigger mold infestation, and reduce air quality. That's why it's crucial to extract standing water from all the affected zones.
We use industrial-grade water extractors to pump out unwanted surface water during this stage of water damage restoration. Commonly used equipment includes submersible pumps, dry vacuums, truck-mounted vacuums, and portable extractors.
After water removal, technicians inspect the area to identify problem areas. For instance, you might need to replace hardwood floors, carpeting, and damaged wiring that got destroyed.
Phase 3: Drying and Dehumidifying
We move onto the drying phase after extracting all visible standing water from flooded/damaged areas. Here the main focus lies in removing dampness and remaining traces of water from the affected areas and hard-to-reach spaces.
We use several heavy-duty air drying equipment during this phase. These include heaters, dehumidifiers, high-velocity air movers, and air filters.  Choice of equipment can vary according to moisture levels and dampness.
Therefore, we continuously assess moisture levels and temperature. The routine analysis allows us to adjust our water damage restoration methods to optimize results.
The Final Step: Clean, Replace & Restore
The last phase revolves around cleaning, sanitization, and complete restoration. Once we remove all traces of water, we deal with the damage it left behind.
Water damage restoration specialists will keep an eye out for mold growth, structural damage, and visible signs of distress within the property.  We take care of these issues before cleaning the place.
After that, we begin by cleaning, sanitizing, and disinfecting the affected areas and restorable furniture. Additionally, we might have to replace flooring or rebuild severely damaged sections of your property.
The extra effort reduces potential risks and ensures that everything is in top-notch condition when we pack up.
In a Nutshell
Water damage restoration can be a tedious task that unreliable DIY hacks can't accomplish. Save your energy, money, and time by hiring professional home restoration service providers immediately.
Experts can come in and save your homes with a seamless 4-step process. We start from water damage assessment, water extraction to drying, and dehumidification. After that, your house will be cleaned, sanitized, and restored to return to its prime condition.
Dealing with Water Damage? Get a Fresh Start with 911 Restoration 
911 Restoration of Baltimore can handle all your water damage emergencies.  Our team of experts can tackle all types of water damage, including roof leaks, pipe bursts, flooded basements, and associated services such as mold remediation, sewage backup clean up, and disaster restoration.  We prioritize your health and safety, doing our best to give your home another life with our expertise.
Call us at (410) 286 1175 or get in touch online for same-day services and consultation.