How 3D Capture Technology Is Transforming the Home Restoration Industry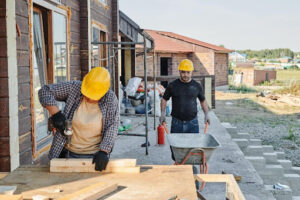 Natural disasters, water leaks, fire outbreaks, mold, and sewage disruptions can all result in the need for home restoration. Home restoration can be a long, drawn-out process that can take months to finish, and is also very expensive and requires the help of professionals trained in restoration processes. In recent times, the introduction of 3D capture technology is revolutionizing the home restoration industry.
What is
3D Capturing
?
3D capturing uses imaging technology to capture highly accurate 3D images of homes and any other spaces. A handheld device is used to scan the entire home, including all surfaces and crevices, to get a highly detailed and unique image of the home, which can then be used to make restoration plans. 
The 3D scanner in a handheld device uses a laser that bounces off the home's surfaces and creates point clouds. These points can be connected to produce a visual of that surface. This allows building professionals to scan restoration sites without making physical contact with the site. The visuals and images that are produced are extremely detailed and include subtle and small details. 
How Does
3D Capture Technology
Benefit the Home Restoration Process? 
There are many ways in which using 3D capturing can help the home restoration process. As the technology becomes more widespread and easily accessible, it is likely to revolutionize how the home restoration industry functions. Let's take a look at some of the advantages that 3D capturing can provide: 
Allows for Accurate Building Documentation
A 3D image of a home is going to be much more detailed and precise than a drawing made by even the most expert professionals. Before 3D capturing, a designer or engineer would have to visit the restoration site and make physical sketches with a tape measure, a pen, and paper. This process took hours of valuable time and was open to human error. Some information could be inaccurately depicted, or certain areas of the site could be missed out entirely. Hand measurements and drawings could also only have so much detail and information. A 3D image, on the other hand, would overcome all of these problems and depict the most accurate version of the restoration site.
Improves Collaboration Between Restoration Workers
There are a lot of different people who have to come together to work on a single restoration project, from engineers and designers to construction workers and architects. 3D captured images produce a single file that can be accessed by everybody involved in a restoration and can be updated as the work progresses. For example, a construction worker can follow instructions left over by the designer while setting down new brickwork to avoid any clashes or missed instructions. 3D imaging also removes the problem of confusion regarding the latest up-to-date plans. Updated physical blueprints would not have to be passed around from one person to the next. 
Can Prevent the Need for Reworking Restoration
In most restoration projects, there can be many bumps in the road. Because so many different professionals are collaborating on the same project, there can be quite a lot of mistakes and errors. This results in the need to undo work and rework it quite often. Reworking different aspects of a restoration can be very expensive, time-consuming, and a waste of resources. With 3D capture technology, there can be more accurate designs to follow and better collaboration between different building professionals. All of this can greatly reduce the need for restoration reworking. 
Can Help Make Strides Towards Workers Health and Safety
When a home has been partially destroyed or has suffered from fire, water, or mold damage, going on the site and making physical contact can pose serious health and safety risks for building professionals. Mold and asbestos, in particular, can be very harmful. The structure of these homes is also not reliable, and there is the risk of building collapses or sunken floors. Builders would also have to climb into difficult-to-reach places like crawlspaces or climb up to the homes' roofs using ladders. Using 3D capturing and handheld devices that do not require people to physically enter restoration sites can help mitigate all of these health and safety risks. 
Allows for Better Structural Integrity of Restored Homes
Lastly, 3D capture technology can help improve the structural integrity of restored homes. Laser scanning, accurate imaging, and highly detailed visuals can all help produce a 3D prototype of the restored home. All of the professionals involved in the restoration can use this prototype to complete the site restoration. The prototype also provides an up-to-date record for everyone to follow. This would lead to an end product restored home that would last longer and need fewer renovations in the future. 
Our Final Thoughts
3D capture technology and the resulting imaging is likely to entirely revolutionize the home restoration industry. It can also provide accurate and detailed images for insurance and court documentation processes. 
If your home has been subjected to any kind of natural disaster, water damage, fire damage, or mold, get in touch with 911 Restoration of Baltimore today! Our service-providing company has all the best-trained experts to help your restoration project move smoothly.