Mold Removal in Baltimore
When black mold spores are in the air, our fungus removal technicians with 911 Restoration Baltimore are on the job and providing the highest quality air scrubbing and mold containment in the industry for home and business owners alike.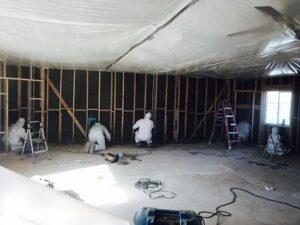 The extraordinary variety of mold that proliferates in the world, and the ease with which it can spread into and take over a home in less than a few days makes it imperative that property owners get professional assistance from IICRC certified techs like ours with 911 Restoration Baltimore.
When mold is found in a home, it usually means that it has been there growing and taking over the porous surfaces in your home or business without hesitation.
This is one of the many reasons why our technicians will respond within 45 minutes of your call to provide immediate mold removal service in Baltimore assistance and save your home.
Additionally our specialists are available 24/7/365 at 410-286-1175 to be there for you at all hours and times when you need us the most.
Don't let a mold or fungus growth take over your home and cause you respiratory problems. Contact our experts with 911 Restoration Baltimore and let them do all of the vapor barrier protection work for you today!
Preventing Mold Exposure in Baltimore
With the proximity of large bodies of water so prevalent in Baltimore and the surrounding area, it is a common sight to find mold growing in homes or businesses.
Here are some important points to remember about mold:
One of the most common ways that mold spores take hold is through simple mistakes that people make when cleaning up water damage.
Many times people fail to get all of the water that has spilled and this can lead to mold growth.
A simple toilet overflow can spread dirty water under the drywall and floor tiles where it can easily grow mold and fungus colonies.
Homeowners should also air out any rooms that have a high level of humidity by opening up a window.
Or in cases where there are no windows then they should employ a dehumidifier to extract any moisture from the air in these locations.
The best method for preventing mold growth after a spill has occurred is to use bleach when cleaning it up.
That way, any mold spores that land will be killed before they can grow colonies.
Our mold remediation specialist in Baltimore wants to make sure that your home or business is well protected from the elements this season, so if you have any doubts about your property's safety then call our mold removal experts with 911 Restoration Baltimore today! Call us at 410-286-1175 and allow us to provide you a free visual inspection.
Eliminating Fungus and Stress with Every Restoration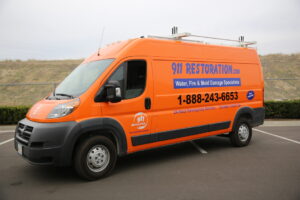 Our teams of mold removal specialists with 911 Restoration Baltimore know that being the best in the industry means more than simply taking out the mold that people find in their homes.
It also means taking the stress out of their lives after a mold contamination has been found.
To do this, our teams of mold removal experts always put the customer first with every job they take on.
We want our customers to feel that they are being taken care of every single step of the way. To give them this added peace, we will make sure they know what is going to happen before we do it and not after.
Our teams build up trust with customers through methods like this and others that put the needs of the client as a top priority.
One of the things that we do to take care of our clients is to do all of the insurance paperwork for them on all of our projects. This takes the stress of dealing with an agent out of the equation for our customers and they really appreciate that.
No matter what kind of mold you may find in your home or business, our mold removal Baltimore team with 911 Restoration Baltimore can eradicate it for you with ease, so give her a call today! Please call us at 410-286-1175