Disaster Restoration in Baltimore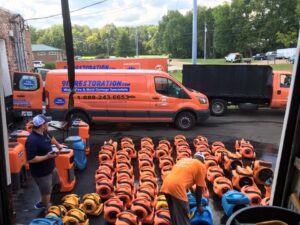 When it comes to determining the best course of action for disasters of all kinds, people trust in the expertise and skill of our disaster restoration Baltimore team with 911 Restoration Baltimore to get the job done right.
No matter what kind of disaster scenario takes place to cause your restoration needs, our disaster cleanup contractors from Baltimore have the experience to handle it.
Part of their process involves getting to the scene of a disaster project quickly with all of the right tools for the job.
We are good-to-go for any kind of disaster anywhere in the Baltimore area. We are totally mobilized so that we can be there within 45 minutes of a call for help.
Being fast to the scene is key to preventing disaster damages from increasing through stagnation. To provide clients with the best services, our disaster restoration team is available 24/7/365 at 410-286-1175 to take on any challenge big or small.
We take pride in our ability to provide high quality restoration services to the good people of the Baltimore area. We are dedicated to making people's lives easier after such disasters by providing them with a fresh start to begin again with.
If your home has experienced damages from a disaster of any kind, then don't linger in calling our disaster cleanup contractors in Baltimore with 911 Restoration Baltimore for help with everything you need today!
What to Expect from Potential Disasters
Our disaster restoration Baltimore crew are total experts when it comes to clearing up the challenges after any event, and this gives them the knowledge to help people prepare for what they can expect.
We get people calling all the time after the weather picks up who just want to know what the whole restoration process will involve for them. This is why we have created a comprehensive list of what people can expect for different situations.
Roofing materials are susceptible to high winds and rain, so even a hurricane that doesn't make landfall close by can still introduce water damage through ceiling leaks to the interior of the home.
Extreme cold can cause the temperature in your home to dip low and past the freezing point, and this is one of the primary causes behind pipe burst scenarios.
High winds and heavy rainfall or snow accumulation may force branches to become overloaded, crack and fall down onto your home. To protect against this, ensure that all dead branches near your home are cut by professionals before the season starts.
When the cold does take hold, it can also cause ice dams in gutters when they aren't cleaned out properly. An ice dam can split the layers of the roofing materials apart and cause leaks inside.
When catastrophe strikes more than one house at a time in the form of flooding, you will have a short window of time to prepare, and the best way to use this might be to place belongings of importance on the upper floors of the home to keep them from getting inundated with the flood water. The Baltimore office is open 24/7/365 at 410-286-1175
These are a number of the ways that homeowners can protect their property from the influx of damages through a disaster, but it is not all that can be done. So if people have specific questions about their particular disaster, they shouldn't hesitate to contact us for help and advice.
If your home is going through a disaster of some sort at present and you want the damages eliminated by the best in the industry, then contact our disaster restoration team in Baltimore with 911 Restoration Baltimore today!
High Winds and Heavy Snow Cause Roof Cave In and Water Damage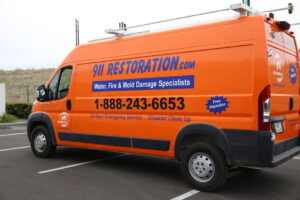 Our disaster restoration Baltimore team have seen and solved all variety of different kinds of disaster situations in their time, and over their tenure in the business, they have come to know what to expect from every situation.
We got called out recently to a job where the trees on the property had grown large, died, and still remained hauntingly over the house.
When the snow picked up, one of the trees started to lean, and then it just gave out and fell onto the home. It went right through the roof and into the second floor bathroom.
Our disaster restoration team in Baltimore knew this was a real emergency and so they got straight to work, first eliminating the tree from the inside of the home, then sealing up all of the places where the elements could come in with large tarps while they worked to repair the damage through the winter.
This was a cold, and tough job, but we were really committed to making sure that the homeowner wasn't put out for too long while the restoration was taking place.
That's why we had crews working to both eliminate the damages, and the potential for more of them with the trees overhanging the property.
If your home has recently had a tree fall through it, or if you have any other form of disaster unfolding at present, then don't wait any longer to get help as it may just create more damages.
Contact our disaster restoration Baltimore team with 911 Restoration Baltimore and get everything taken care of properly so you can get back to living your life like normal again today! Call us at 410-286-1175 and see how we can help you.