Be Prepared For Power Outages and Harsh Weather Conditions During A Blizzard
Baltimore felt the nor'easter this week in more than one way. The powerful, gusty winds knocked over trees and power lines, causing massive power outages throughout the area.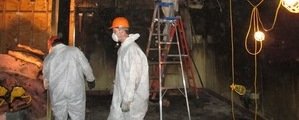 Crews have had to work all across Maryland to restore power to an estimated 395,000 property owners who had lost their gas and electricity due to the nor'easter. Many school still remain closed due to the black out.
The winds were so intense, in fact, that they did cause one fatality during the storm when the gusts caused a tree branch to fall on an elderly woman checking her mail. This devastating incident is a reminder of just how powerful this wind storm can be and how careful you have to be if you must go outside.
Staying safe during a nor'easter of this magnitude should be everyone's main priority. Even if it seems like a hassle to ride out the storm inside, especially if you do not have power, this is the best way to stay protected against the heavy wind, snow and rain.
Know How To Be Prepared For Power Outages During A Blizzard
It is never fun to be without power, however it is especially disheartening to deal with a black out when a nor'easter is raging outside.
You can not go outside in the wind and snow, so you are forced to stay inside the property and deal with life without power.
We are not accustomed to being without gas or electricity, but there are some easy ways to deal with this situation without going completely crazy, or risking your life outside in the storm.
Use flashlights and candles to light your home. Try not to use the flashlight on your phone, because you are going to want to safe as much battery life as you can in case you need it for an emergency.
If your phone does end up dying during the power outage, use your landline. Write down any phone numbers from your cellphone that you might need  and keep it near the landline phone.
Use a battery powered radio to keep tabs on the outside world. This will keep you up to date on weather conditions, evacuation procedures and information on the power outage.
Learn How To Stay Protected If You Get Caught Out In The Wind And Snow
Even though staying indoors is the best way to avoid any injuries during a nor'easter, there may be moments when you have to leave your property and brave the storm.

In some cases you may be asked to evacuate your property, which means gathering up your things and your family and driving in harsh conditions.
Before leaving your home you should try to bring only the bare minimum, meaning only packing up essentials. This should include warm clothing, a sleeping bag, food, water, candles, flashlights, matches, batteries and some type of signaling device. If you can, plan ahead and leave all of this stuff in a duffle bag inside your vehicle.
If you end up getting stranded in your car while you are driving in the snow the first thing you should do is check the exhaust to make sure it is not blocked by snow. This will ensure that carbon monoxide does not build up in the car.
Turn the car off, stay inside and turn on your hazards. If you have a brightly colored flag or signaling device, place it on your car so it is visible from the road. This will alert anyone passing by that you need assistance.
You can turn the car on every 30 minutes to run the heater for a few minutes to warm up the car, but you need to be mindful to not run out of gas. If you get very cold but can not keep running the heater, try to stay active in the car by moving your upper and lower body as much as possible.
Contact the local authorities to get assistance, and if you are in exceptionally dire conditions you can always reach out to The Red Cross and FEMA.