Baltimore County
Property owners in Baltimore County have access to 24/7/365 water damage restoration services when they experience a flood or leak in their home or business.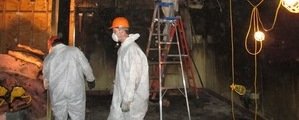 911 Restoration of Baltimore understands the urgency in situations involving water, especially due to the element's ability to cause mold infestations within a matter of days.
The Baltimore County office is open around the clock so property owners can receive immediate help when a water emergency occurs. Professionals will arrive within 45 minutes of receiving your call, ensuring that you never have to wait long for help.
To keep you protected, the entire 911 Restoration operation is licensed, bonded, and insured. The repair workers are also IICRC certified, so customers can completely trust in their abilities.
911 Restoration of Baltimore County is locally owned and operated, making their experts totally in tune with the wants and needs of their customers. So, call the water damage restoration agents when you need mold removal or leak repair services and before you know it, you'll have your fresh start.
Around The Clock Basement Flood Damage Cleanup
Your basement can become flooded for a number of reasons. Heavy rain can cause water to run into your property or water can burst through a crack in a pipe, creating costly water damage.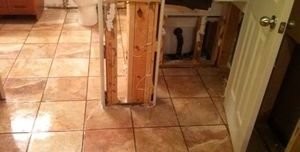 No matter how the flood is started, the water damage restoration technicians can stop it. The Baltimore County specialists have the ability to provide water removal services on a moment's notice, whether you live in Parkville or Towson.
Water damage restoration should be administered as soon as it can be after the flood has taken place. Providing you with this emergency water cleanup is the best way to limit the water damage and prevent the need for mold removal services.
The specialists will also disinfect your basement floor after a flood has occurred, turning it back into the clean and safe laundry room, home office, or storage area it used to be. Water mitigation and mold removal need to be handled with care and precision in order to make sure all traces of water damage and mold have been remediated properly.
Our water damage restoration unit is the most qualified in Baltimore County. So, call 911 Restoration of Baltimore when you are in need of professional flood cleanup services and their highly trained technicians will give you the peace of mind you deserve.
Fast And Efficient Mold Removal Services In Parkville
Water damage can lead to a mold infestation with 24-48 hours, making it imperative to reach out for water damage restoration services as soon as you discover a leak or flood in your property.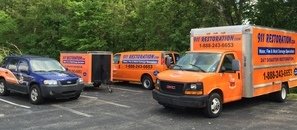 One customer in Parkville called 911 Restoration of Baltimore when she noticed an accumulation of mold under a loose part of the wallpaper in her bedroom.
When the technicians came out to check out the damage they discovered a pipe in the wall was causing a constant drip which had led to a mold infestation throughout an entire panel of drywall.
The highly trained technicians were able to stop the leak and implement a successful mold removal program. The spores they collected were tested and determined to not be a malicious species.
The mold removal unit cares about your safety and by providing mold testing at a third-party laboratory they can ensure that there are no harmful strains of mold in your home or business. Call the mold removal team in Baltimore County when you need immediate water damage restoration and they will also make sure all your mold and leak issues are remediated.
Proudly serving Baltimore County and the surrounding cities: